Maxwell Museum Blog
Post Date:
Monday, April 6, 2020 - 09:45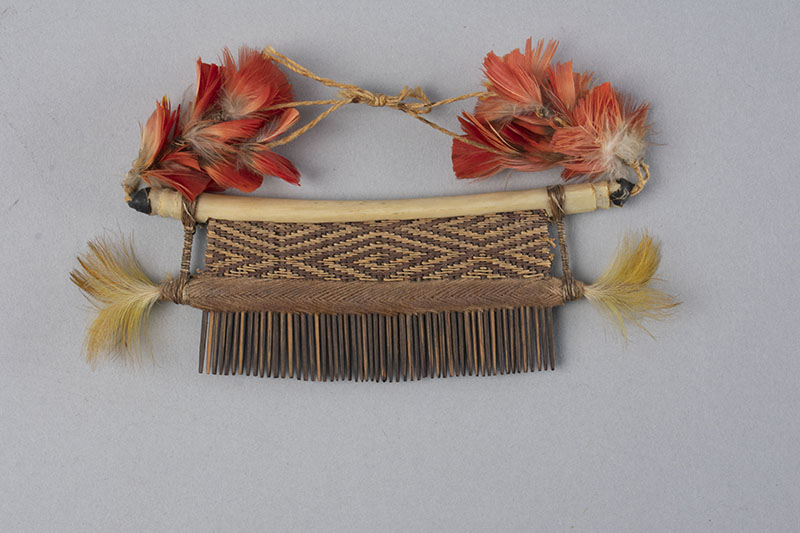 92.28.1 Comb (wayamakasu), Waiwai, Roraima Region, ca. 1950s
The comb was collected in the 1950s from the Indigenous nation of the Waiwai of Northern Brazil.
The Waiwai wayamakasu (12 x 7 cm) has a top crossbar of monkey bone and lower bar of bamboo which is wrapped with woven threads, teeth made from palm wood, colorful feather clusters, a woven mid-section, and a handle for carrying. Waiwai combs are made for women by men and their colors and materials signify the interrelationship of opposite genders in Waiwai society[1]. In this comb, the purple-dyed cotton is associated with women and the blonde buriti fibers are associated with men.[2]
 The Waiwai live in disperse territories comprising nearly 21,000 sq[3]. miles in Northern Brazil and Southern Guyana. Their population is estimated to be around 2,800 members.[4]
Information about the WAIWAI: https://pib.socioambiental.org/en/Povo:Waiwai
Maps and information of indigenous territories: https://terrasindigenas.org.br/en
Educational resources for Children: https://mirim.org/en
Online Book- The Gift of Birds (information about feather work and WAIWAI COMBS): https://tinyurl.com/ssbtdd4
The comb will be featured in the upcoming exhibition, Heartbreak: A Love Letter to the Lost National Museum of Brazil. Post by Moira Garcia.
---