-News-
posted-on: Apr 10, 2018 1:51pm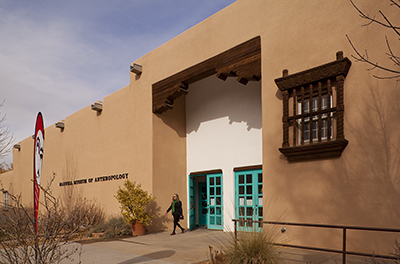 Maxwell participates in National Museum Assessment Program
April 7, 2018
Contact: David Atlee Phillips dap@unm.edu  (505) 277-9229
The Maxwell Museum of Anthropology has been selected to participate in the Museum Assessment Program (MAP), funded by the Institute of Museum and Library Services, a federal organization and administered through the American Alliance of Museums (AAM).
MAP helps museums strengthen operations, plan for the future, and meet AAM standards through self-study and a consultative site visit from an expert peer reviewer. The Maxwell has chosen to do a MAP Collections Stewardship in order to prepare for re-accreditation by the AAM.  "If the Maxwell Museum is to continue serving UNM and the people of New Mexico, from time to time it needs to take a hard look at itself," said Dave Phillips, Interim Director of the Museum. "Ultimately, going through MAP is not about the Museum, but about how to better serve the public."
"Choosing to be part of the MAP program is indicative of the commitment to civic involvement, public service and overall excellence on the part of the Maxwell Museum of Anthropology" said Laura Lott, president of AAM. "Studies have shown America's museums to be among the country's most trusted and valued institutions. MAP is designed to make them even better."
The Maxwell Museum of Anthropology is the oldest public museum in Albuquerque. Established in 1932, by archaeologist Edgar Lee Hewett, the earliest exhibits were gathered from Chaco Canyon field schools for archaeological research associated with the newly formed UNM Anthropology Department, the School of American Research and the Museum of New Mexico. The Museum has been accredited by the American Alliance of Museums (formerly the American Association of Museums) since the 1990s.
Since its creation in 1981, the MAP program has served over 4,600 museums. MAP is supported through a cooperative agreement between AAM and IMLS. For more information, including a complete list of museums participating in MAP, please visit www.aam-us.org/map, call 202-289-9118 or e-mail map@aam-us.org.
AAM is the only organization representing the nation's entire museum community and has been dedicated to promoting excellence within the museum field for over 100 years. For more information about AAM, visit www.aam-us.org. The Institute of Museum and Library Services is the primary source of federal support for the nation's 123,000 libraries and 35,000 museums. To learn more about the Institute, please visit: http://www.imls.gov.