-News-
posted-on: May 07, 2018 4:37pm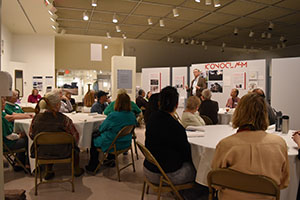 They can be found sorting pot sherds in the Archaeological collection, organizing files in the Laboratory of Human Osteology, leading Educational tours of the People of the Southwest exhibition and travelling to local elementary schools - keeping to a scheduled commitment in service to the Maxwell.   Volunteers support has enabled the Maxwell to move forward with long-term goals like organizing the hundreds of objects from archaeological excavation to supporting online archiving by photographing objects. 

On Thursday, April 6 the Maxwell celebrated the contribution of volunteers at the annual Volunteer Recognition Luncheon.  The main gallery of the Maxwell was readied for the celebration and volunteers entered and found a table, often sitting with the staff they support. Interim Director David Phillips addressed the crowd, speaking about his relief when the first volunteer, Karen Armstrong, asked him if he could use some help with the archaeological collections.  Dave was the Curator of Archaeology at the time. Fourteen years later the archaeology volunteers are going strong and have sorted through over 100,000 objects through their determined effort.
Organized by Maxwell Unit Administrator Sandy Lujan, the event was enjoyed by all.  Catering was provided by the Cooperage and dessert by Pastian's Bakery.  The Maxwell welcomes volunteers in many programs.  Check the Get Involved drop down menu on the website homepage for more information.