Maxwell Museum Blog
Post Date:
Monday, July 20, 2020 - 17:00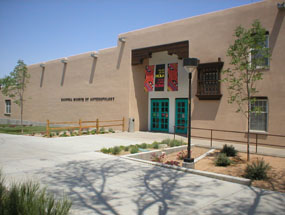 Throughout its nearly 90 year history, the Maxwell Museum has been a leader among university-based anthropology museums. Through the Office of Contract Archaeology, the Maxwell plays a major role in identifying and preserving archeological sites in New Mexico. The Maxwell Museum's curators, staff and collections provide unique educational and research opportunities for students at UNM. The Museum supports tourism and cultural heritage protection and education in New Mexico, provides exhibits and programs that connect UNM to the citizens of Albuquerque, celebrates the diversity of New Mexico's communities, and enhances the curriculum of local schools. We look forward to seeing what the next 90 years brings.
Note: this document relies heavily on the overview prepared by Bruce Huckell on the occasion of the Museum's 75th anniversary.
SOURCES
Bawden, Garth L. n.d. The Maxwell Museum of Anthropology: An Assessment of Its Mission and Needs. MS on file, Max­ well Museum of Anthropology.
Hughes, Dorothy  Pueblo on the Mesa, The First Fifty Years at the University of New Mexico. University of New Mexico Press, Albuquerque.
Maxwell Museum Photo Archives.
University Archives, Center for Southwest Research, Zimmerman Library, University of New Mexico.
Directors:
| | |
| --- | --- |
| 1932-1969 | Frank Hibben |
| 1969-1972 | John Martin (Jack) Campbell |
| 1973-1984 | Jerry J. (J.J.) Brody |
| 1984-1985 | Lewis R. Binford, Interim director |
| 1985-2005 | Garth Bawden |
| 2005-2007 | Bruce Huckell, Interim director |
| 2007-2016 | E. James Dixon |
| 2016-2018 | David Phillips, Interim director |
| 2018-ongoing | Carla M. Sinopoli |
Frank Hibben: Chronology
| | |
| --- | --- |
| 1933 | Hewett asks Hibben to come teach and establish museum |
| 1936 | Hibben appointed as Research Assistant |
| 1938 | Curator of Collections of Museum |
| (1941-45) | Hibben away serving in WWII |
| 1986 | Hibben bequest, house, property, collections, archives, photos (Newsletter XIII, 1); made to Foundation, but designated to Maxwell |
| 1989 | Hbben wills 20,000 cultural items to Museum – and his personal library to Clark Field |
| 19xx |   |
| 2002 | Passes away, four months before the opening of the Hibben Center |