Maxwell Museum Blog
Post Date:
Monday, August 3, 2020 - 15:30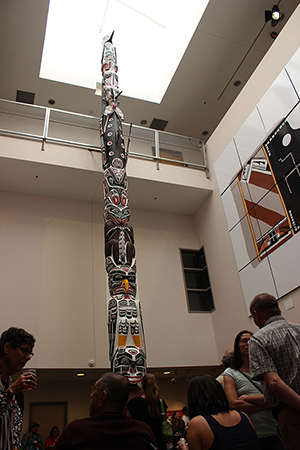 Mary W. asked "What is the largest item in your collection?"
​Authors: Lea McChesney and Lauren Fuka
The history of this object involves two countries and historic and contemporary anthropological practice:
The largest item in our collection is the Smith Family Totem Pole. It stands 40 feet tall and weighs around two thousand pounds.
Commissioned by Chief Sewid (Sewid Smith) of the Tlowitsis Nation in 1907 on Turnour Island, British Columbia, the pole may have been raised in part for his son Peter Smith's potlatch as chief, to dedicate the pole with its crests confirming the descendant claim, and in conjunction with the marriage of Smith Sewid's oldest daughter Abaya (Constance Sarah Smith) to David Hunt, son of George Hunt, who worked closely with anthropologist Franz Boas at the turn of the twentieth century. Peter Smith's Kwak'wala name was Sewidanaquilla, or "becoming Sewid."  Sewid, meaning "paddled to," is a term designating a position recognized by other great chiefs who "paddle to" this person in recognition of his high status and beneficence.
The pole was carved by the artist Charlie Yakuglas James, who may have been assisted by Mungo Martin. Both are renowned Kwakwaka'wakwa totem pole carvers. The pole was sent from Alaska to the University of New Mexico in 1941, where it initially stood in front of Scholes Hall, the main administration building. In 1973 the pole was moved to the museum's courtyard, where it stood until 2017.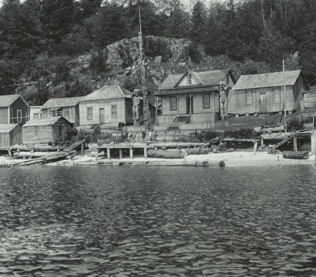 Village of Kalagwees, showing pole in front of Siwidi's house.  Photo credit: Tlowitsis Nation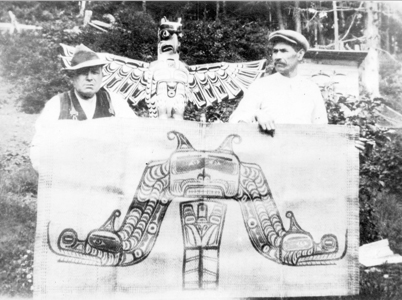 Caption: Charlie James (left) and Mungo Martin (right) holding a cedar bark mat, ca. 1930.  By James Skitt Matthews.  Photo credit: Courtesy of City of Vancouver Archives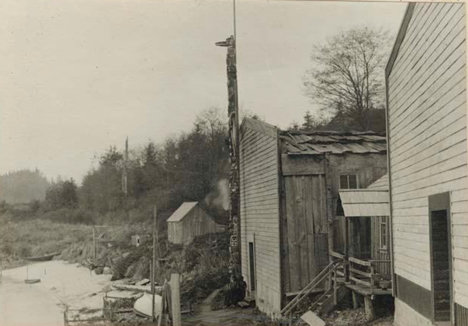 Caption: New totem pole; Side view in front of waterfront house, Kalagwees (Qaloǧʷis), 1912.  By Charles F. Newcombe.  Image: Courtesy of the Peabody Museum of Archaeology and Ethnology, Harvard University, PM# 2004.29.3449
Next week (Part 2 of 4), we turn to the problematic journey of the Smith Family Totem Pole to New Mexico.