Maxwell Museum Blog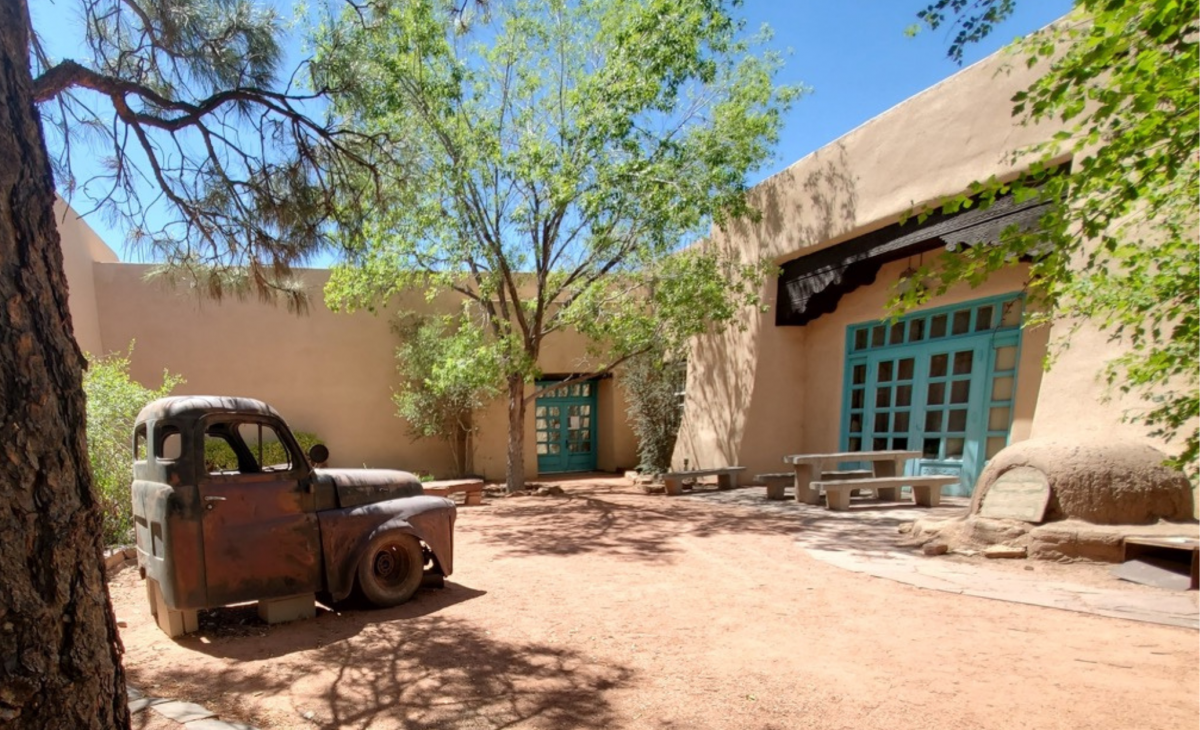 The Maxwell, in partnership with the UNM Art Museum, is proud to announce the launch of the "Maxwell Courtyard Concert Series," a three-part celebration featuring superb local and regional artists. As Albuquerque's first public museum, the Maxwell aims to restore voices and create community. What better way to realize this vision than through music & culture? 
Remember, as the UNM Art Museum reminds us, "you belong here." As such, please join us for the free concerts as we transform our intimate courtyard into a unique cultural venue. During these events, the Maxwell as well as its Museum Store will be open and light fare and refreshments will be offered.
The series is also co-sponsored by UNM's El Centro de la Raza, Department of Anthropology, Latin American & Iberian Institute, Department of Music, and the Department of Chicana & Chicano Studies through their Andrew W. Mellon Foundation grant meant, among other things, to fund arts outreach activities that stimulate student interest in the humanities.
*Tickets to each concert below are free but limited to the courtyard's capacity. Non-ticketed audience members can still enter the museum, visit the store, and enjoy the music; however, non-ticketed folks will have to either sit/stand in the portal and garden (located right outside the gates of our courtyard to the east)*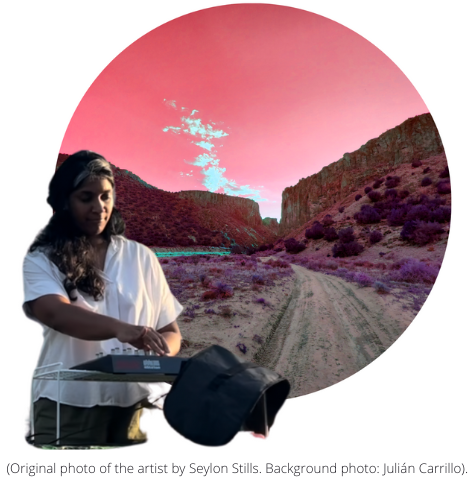 July 15, 2022 @ 6:30 PM
Seylon Stills 
Seylon Stills is a sound artist, producer, and singer-songwriter known for her captivating audience interactive performances. She uses technology to create immersive, ambient experiences. By weaving in field recordings collected while out in nature, Seylon Stills transports her audience to beautiful natural spaces. She has a deep sense of wonder and appreciation for the natural word. 
Seylon fuzes the vulnerability of acoustic folk with experimental electronic soundscapes. Her background as a classical singer and composer surface in her intricate instrumentation and hypnotizing vocal harmonies. She sings, and noodles on many different instruments including the piano, ukulele, melodica and glockenspiel which make many special appearances on her debut EP. 
Seylon uses the cell phones of audience members to create an immersive experience while also symbolizing how each of us, small as we are, come together to create a rich community. The sounds from each individual phone come together to build a beautiful, textured soundscape that could not be created without each person in the room. Through her interactive pieces, the whole is truly greater than the sum of its parts.
August 25, 2022 @ 6:30 PM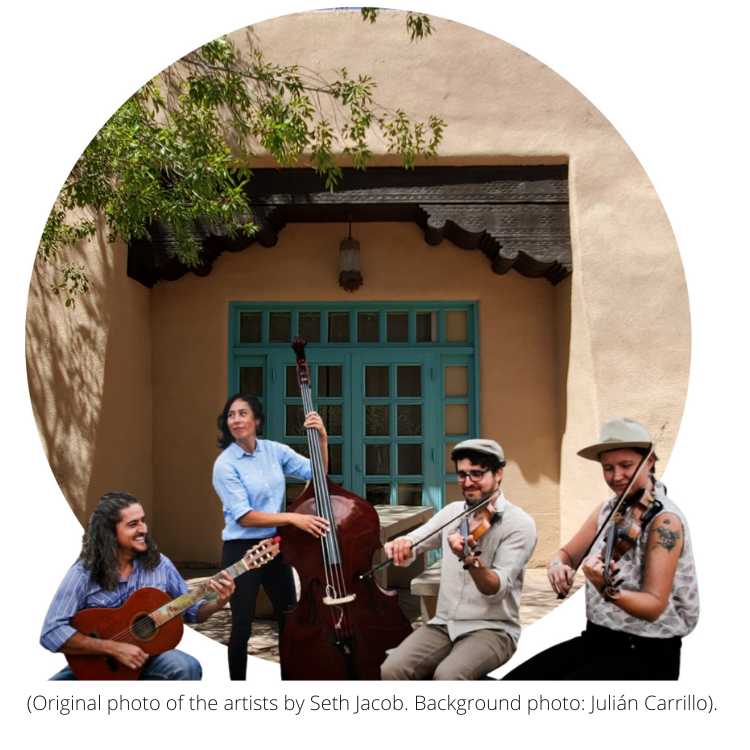 Lone Piñon
Lone Piñon is a New Mexican string band whose music celebrates the integrity and diversity of their region's cultural roots. With fiddles, upright bass, guitars, accordions, vihuela, and bilingual vocals, they play a wide spectrum of the traditional music that is at home in New Mexico. The quartet is composed of Jordan, Tanya, Karina, and Santiago.
Jordan Wax has studied traditional New Mexico dance music guided and inspired in the past years by mandolinist Tomas Maes and the late accordionist and guitarist Antonia Apodaca. He serves the Manitos Community Memory Project as a Community Archivist digitizing and archiving New Mexico music-related documents, sound recordings, and oral histories.
Tanya Nuñez grew up in a musical family, in which no celebration was complete without music and dance: rancheras, polkas, valses and cumbias.  She has worked as a bassist in a variety of traditions from classical, tango, Persian and Arabic, to country, rock and funk/soul.  Though she plays many styles, the beautiful and diverse music of the Southwest US and Mexico holds a special place in her heart and she is honored to study and share it.
Karina Wilson grew up surrounded from an early age with traditional music and dance. In addition to professionally performing and teaching classical violin and viola, her passion for traditional dance music and the roles it plays in cultural context has taken her to 23 countries/territories to work with musicians. She is in high demand at dances and workshops across the US and at home teaches and performs honky-tonk, old-time, classical, international folk, and regional Mexican and New Mexican traditions.
Last but not least, Santiago Romero began learning the guitar at the age of 6 from older musicians in his community and began working as a mariachi in Las Cruces, El Paso, and Ciudad Juárez in his early twenties.  He has performed and served as creative director in a variety of ensembles, taught as part of several educational initiatives and in 2005 was appointed by Governor Bill Richardson as the first New Mexico state representative of Mariachi music.
TICKETS FOR AUGUST 25 SOLD OUT...However:
You can still enjoy Lone Piñon's music from our non-ticketed area right outside our courtyard! Moreover, before the band takes the stage, you can participate in our community music jam from 5:00 PM - 6:30 PM--no ticket needed. Simply bring your instrument(s) and enjoy good company, fresh fruit and refreshing limonada.
Already, two great musicians have confirmed participation: multi-instrumentalist David Garcia and Gordon Ambrosino, didgeridoo player.
In the works is participation from members of the UNM Chicana and Chicano Studies Department who regularly gather to play son jarocho with its poetic lyrics, communal strumming of jaranas, and zapateado!
September 30, 2022 @ 6:30 PM
Dance Party with DJ Randy Boogie + DJ Garronteed + MC Ekym1536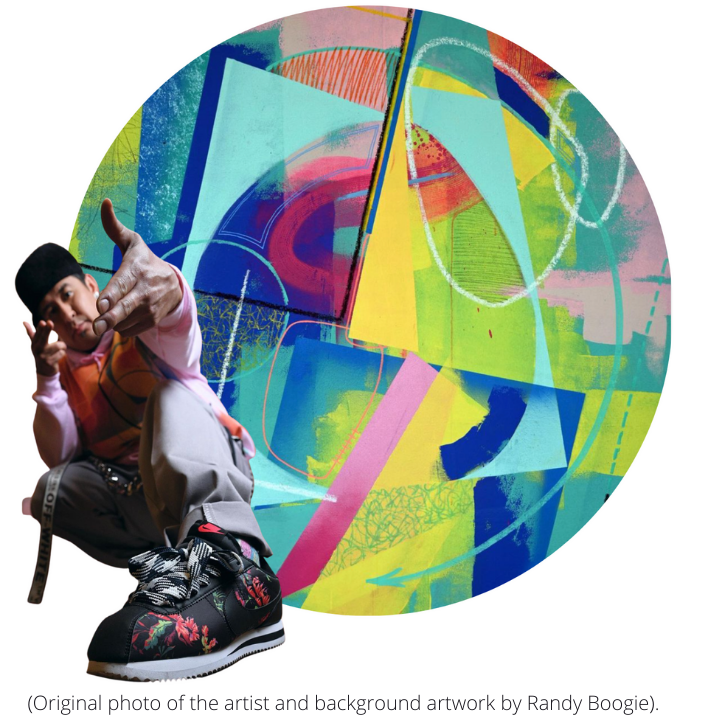 DJ Randy Boogie
Randy L. Barton (Dine') is a multi-disciplined, contemporary artist, designer, dancer, DJ, and music producer from Winslow, AZ best known for his visionary abstract paintings, live painting performances, and innovative style. The foundation of his creations derive from the unique combination of his background in hip hop, graffiti art, and the traditional Navajo teachings and ceremonies that began shaping his life at an early age. 
Randy began focusing on art as a profession in 2001 after receiving a degree in graphic design, and began painting professionally in 2007. He showcases the beauty way, protection way and hip hop undertones in all of his work and is inspired by colors and hues of heightened states of awareness. He transforms acrylic and aerosol paint into stimulating abstract landscapes of time travel, rainbow walking, prayer, reflection, and soul remembrance manifested from the spirit realm. Each brush stroke is a prayer and moving meditation of creation from spirit to canvas. His intention is to uplift one's spirit to new dimensions of spirituality utilizing Neo-contemporary native arts as the vehicle to promote healing and consciousness.
MC Ekym1536 
Jicarilla Apache artist, Michael Tafoya, also known as, is an eMCee, audio engineer, event curator, chef, and loving father. Born in Santa Fe, NM, EKYM was raised with a diverse musical background and has an appreciation/ear for all musical genres. He has a B.S. in Audio Production from Miami International University of Art & Design and is currently focused on DojiMoto Productions, a mixing & mastering company.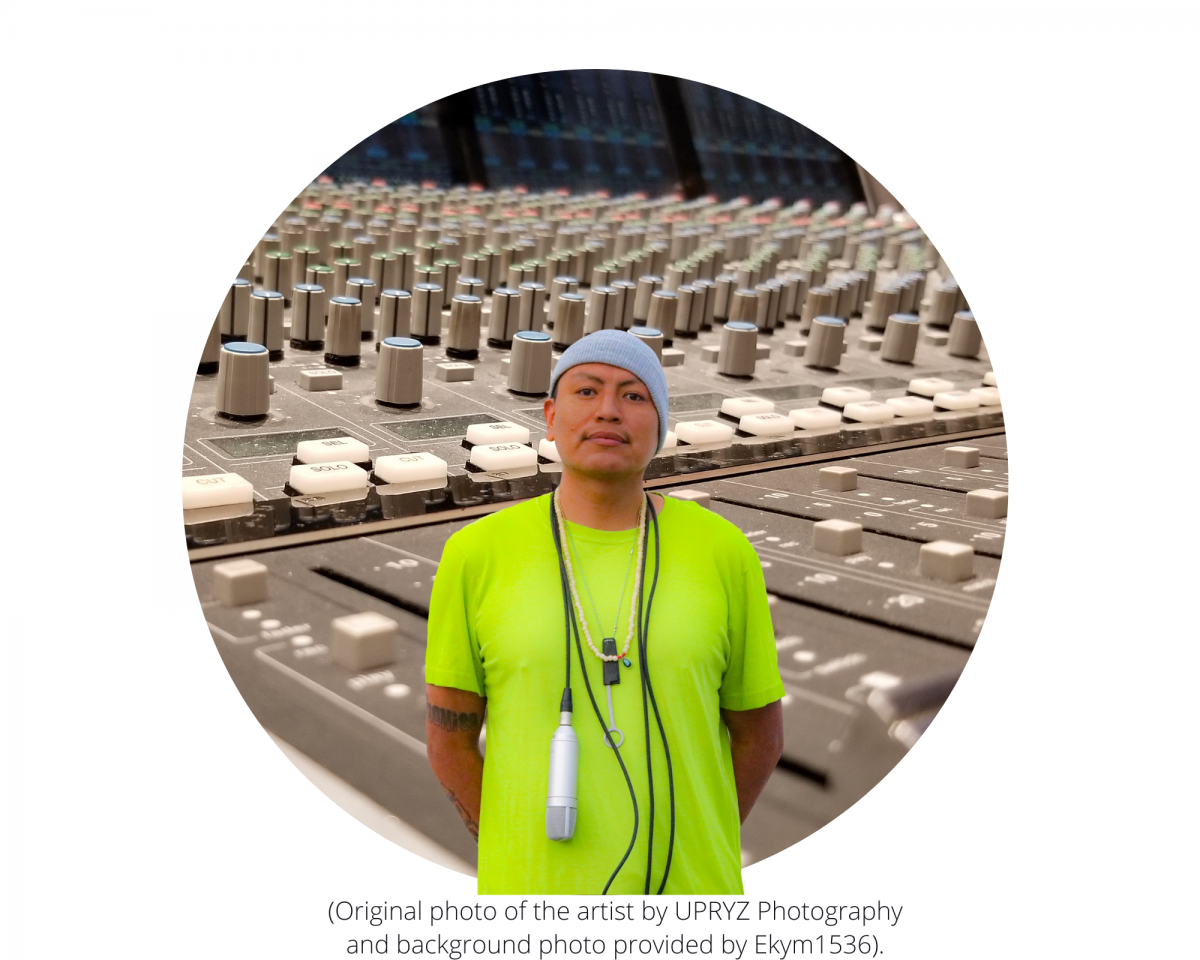 He resides in the Greater Albuquerque area and works as an instructor at Native American Community Academy; an audiovisual technician with Encore Global; and showcasing for both local and major touring acts. For instance, Oddisee, Living Legends, XP the Marksman, and Denmark Vessey.
EKYM is always on the move, networking and creating bridges from city to city; creating a lane for fellow artists/musicians to take their art on the road. Hip-Hop has always peacefully brought diverse ethnicities together around the globe and allows all to express themselves within the five elements (Djing, B-Boying, MCing, Graffiti and Style).
As such, a mantra he lives by is: "Hip-Hop is life & everyone's invited!"
DJ Garronteed 
Garron Yepa, also known as DJ Garronteed, is of Pueblo of Jemez and Dine' heritage. Born and raised in Albuquerque, he attended UNM's School of Architecture & Planning and currently works in the architecture field and lives in Santa Fe, NM. DJ Garronteed engrossed himself in hip-hop and reggae music since he could decide what he wanted to listen to. His passion for the music shows in his distinct DJ style. He has been rocking crowds all over the nation with his seamless mixing of current club tracks, classic hip hop, and reggae music.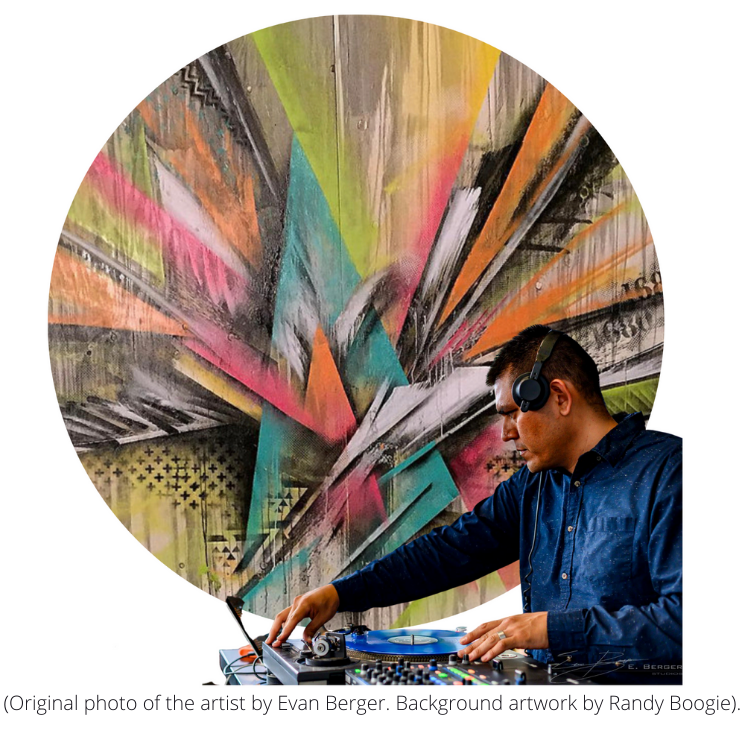 He has performed at clubs, casinos, concerts, bars, restaurants, wrap parties, weddings, live art shows, gallery openings, jazz expositions, fashion shows, step shows, b-boy battles, MC battles, school dances, community dances, graduation parties, basketball tournaments, barber shops, pool parties, house parties, fraternity house parties, warehouse parties, living rooms, dorm rooms, studios, dvd's, television shows, after shows, before shows, during shows, and so on and so forth…
With him at the turntables, it is always: "Satisfaction Garronteed."
TICKETS FOR SEPT. 30 CLICK HERE!
Our Generous Co-Sponsors