Maxwell Museum Blog
Post Date:
Monday, March 30, 2020 - 09:30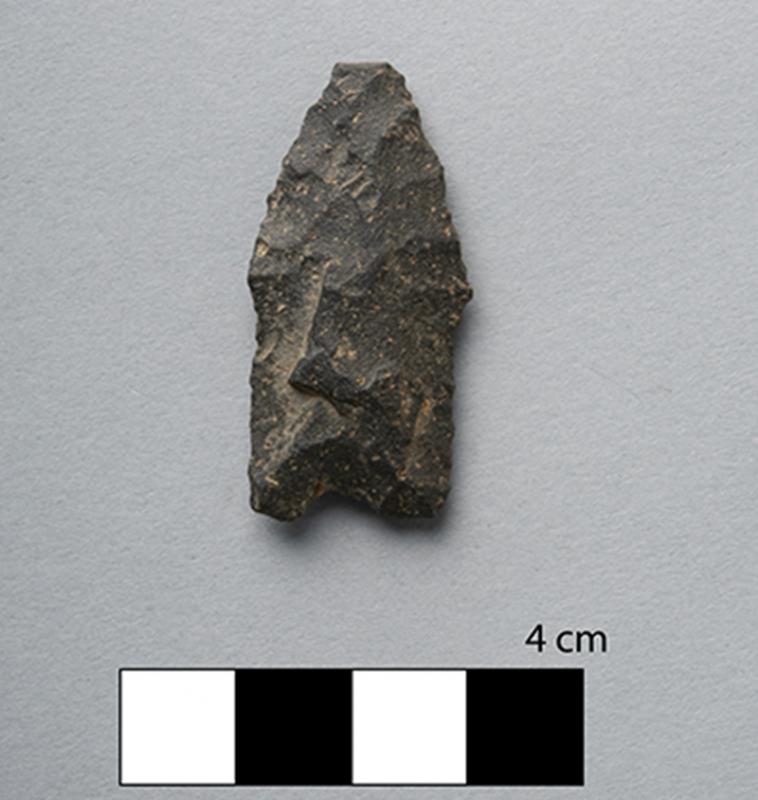 Bajada
Dart Point
Origin: The Grant's San Jose Sites, NM
Dates and Period : Early Archaic (8000 - 5500 BP)
Division : Archaeology
Maxwell Catalogue # : 2015.39.108
Photo Credit : J. Birkmann
Often referred to as "arrowheads", many of the projectile points found in the state of New Mexico are actually throwing spear points or "darts", meant to be used with spear throwers (atl-atl's). These artifacts are cultural and temporal markers for the Archaic or pre-ceramic period. Projectile points are classified by their distinctive shapes and manufacturing techniques.
The Bajada type point shown here was recovered by George Agogino in the 1950's during his re-investigation of several pre-ceramic sites first identified by Joseph H. Toulouse and Kirk Bryan. Identified by their long, parallel sided stems and concave bases, these points are thought to reflect a type manufactured during the Early Archaic period (8000 BP to 5500 BP), although the true antiquity of this type remains uncertain. This point is made from a fine-grained volcanic stone known as andesite, a material available within New Mexico and commonly utilized in their manufacture.