Maxwell Museum Blog
Post Date:
Monday, August 10, 2020 - 15:45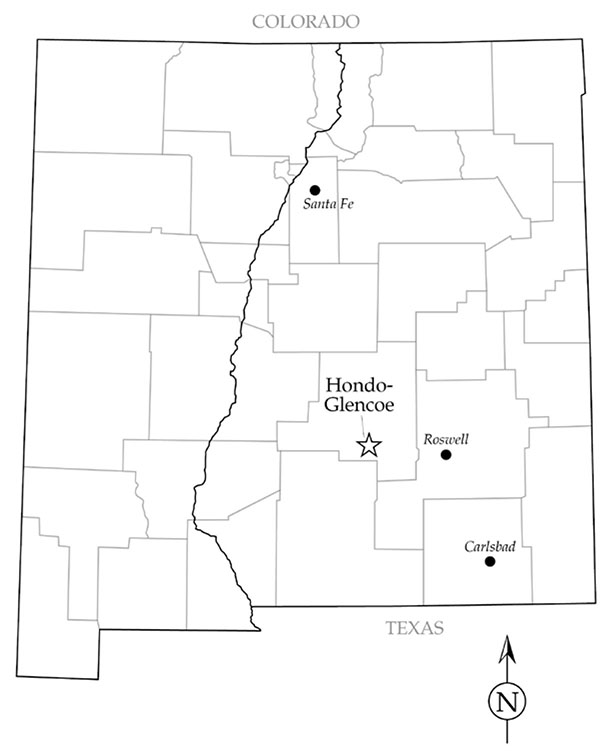 THE HONDO–GLENCOE PROJECT: EARLY 1970s EXCAVATIONS ALONG THE RIO RUIDOSO, LINCOLN COUNTY, SOUTHEASTERN NEW MEXICO 
By: Regge N. Wiseman
Introduction:
In August and early September 1971, the Laboratory of Anthropology (LOA), Museum of New Mexico excavated three sites along the Rio Ruidoso in Lincoln county for the New Mexico State Highway Department
(now the Department of Transportation or NMDOT) (Figure 1). The work actually encompassed two highway projects, the Glencoe project and the Hondo project. Initially, the field work was led by Stewart Peckham,
assisted by Frank J. Broilo and Larry S. Wells. Broilo was later given charge of the project when Peckham returned to the office to continue his duties as the chief archaeologist for the LOA. Up to eight laborers were
hired from local communities to complete the excavation crew.
The three sites excavated on this project, LA 5377, LA 5378, and LA 5380, are along a 4.5 mile (7.2 km) stretch of the Rio Ruidoso roughly centered on the Glencoe Cemetery. LA 5377 and LA 5378 are at the west or upstream end on this stretch, while LA 5380 is at the east or downstream end. All three sites lie on the north or left margin of the valley.
As was then the usual practice, post-excavation funds allowed only the production of brief preliminary report (Broilo 1973). The present report presents the results of analyses I performed on a volunteer basis using equipment, space, and other amenities provided by Eric Blinman, director of the Office of Archaeological Studies (OAS). The OAS grew out of the LOA highway
salvage program and is now a sister agency of the Museum of Indian Arts and Culture/Laboratory of Anthropology within the Museum of New Mexico system.
Full Article: The Hondo-Glencoe Project