Maxwell Museum Blog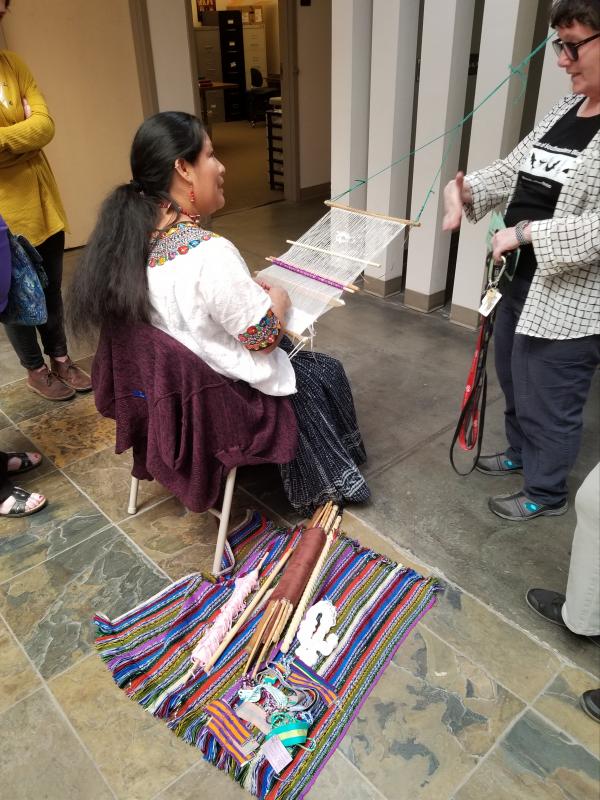 In April 2019, the Maxwell Museum hosted a pop-up weaving demonstration at the Hibben Center.  Master weaver Concepción Poou Coy Tharin demonstrated the pikbil style of backstrap weaving, which she learned as a child growing up in the village of Samac Cobán, Alta Verapaz, in the central highlands of Guatemala.  Practicing a traditional art form among the Maya, women have been weaving in Guatemala for over two thousand years as a way to express creativity, identity, and worldview.  This cultural perseverance has occurred despite Spanish colonization in the 16th century and waves of political conflict following independence in 1821 that continued into the late 20th century.  Weavers from each village and region incorporate distinct designs and colors into their work, and what was once a means of making clothing (traje) has become a highly prized international cottage industry and an important source of income, as well as means of empowerment for the women who continue the tradition.  This achievement is notable in contemporary society, where political instability and high rates of poverty persist.  In her home in Florida, Concepción teaches the pikbil tradition of weaving intricate white on white patterns into a gauzelike fabric that is woven into huipiles, shawls, and more.  
In addition to weaving, Concepción is working on a research project to review collections of Guatemalan and Mayan textiles with Dr. Gabrielle Vail, a Research Associate of the Research Labs of Archaeology at the University of North Carolina, Chapel Hill, who accompanied her on her visit to the Maxwell Museum.  They were attending the Society for American Archaeology Conference held in Albuquerque and asked to review the Maxwell's holdings.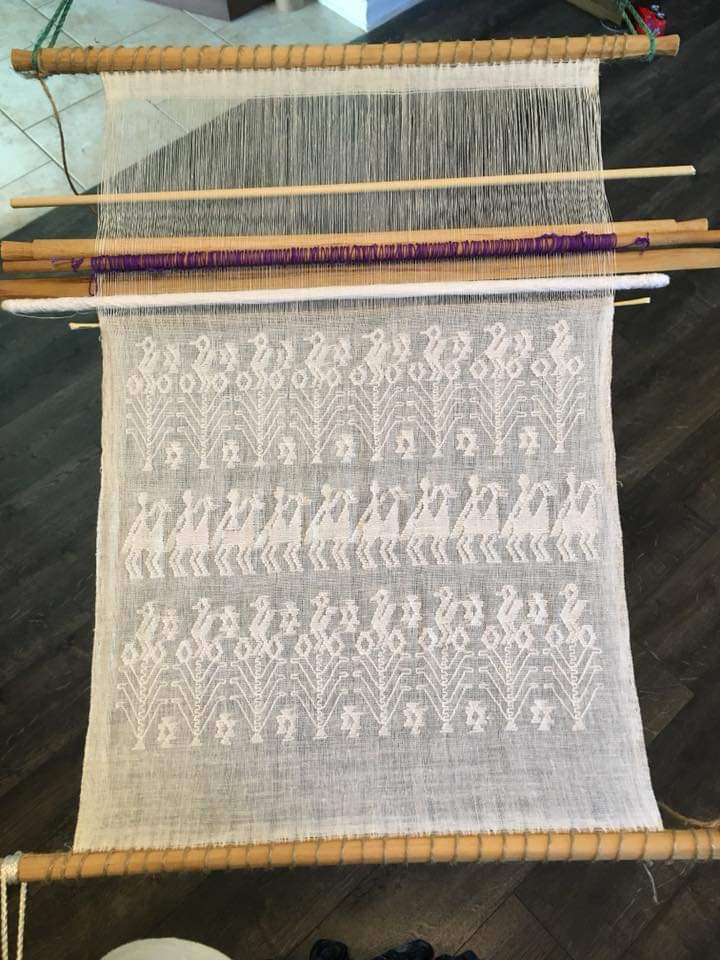 During her demonstration, Concepción explained her technique and answered questions about the now rare pikbil tradition.  It was obvious to anyone present how much she loved what she was doing. The handmade backstrap loom consists of six or seven wooden rods upon which is cast hand-dyed cotton yarn.  Sitting in a chair, Concepción strapped herself into her loom with a woven backstrap belt and, literally, she was one with her weaving.  As the hour grew late, she unhooked the loom from where it was tied to the wall and rolled up the cloth, still attached to the rods, and placed it in her bag.  Just like that she broke the spell that mesmerized attendees, who purchased some of her work and chatted with her before she left for the airport. 
Earlier in the day, with the assistance of Dr. Lea McChesney, Curator of Ethnology, and Karen Price, Senior Archaeology Collections Manager, Dr. Vail and Concepción were able to view textiles in the Maxwell collection from various regions in Guatemala to inform their collaborative research.  Concepción provided detailed technical and stylistic information for catalog records and was deeply moved to be able to identify the work of past generations from her community weaving in the same style that she uses in the Maxwell's collections. The research visit proved moving for Dr. McChesney as well, not only because she appreciated this strong connection, but because it realized the significance of the ethnology collections as heritage resources that are valuable to descendant and source communities.
After their visit, Dr. Vail expressed an interest in donating a wall hanging created by Concepción that was inspired by the textiles she visited at the Maxwell Museum.  Fittingly Concepción's work will have a place in the collection alongside that of her ancestors: a closing of the circle, if you will.
Post by Hope Casareno and Lea McChesney with contribution by Lauren Fuka
References
Concepción's Mayan Back-Strap Weaving - Home
https://m.facebook.com/concepsmayanweaving/?ref=page_internal&mt_nav=0
"Concepción: Master Back-strap weaver" on YouTube
"Backstrap Weaving in Guatemala." Education and More. Updated 2020.  
http://www.educationandmore.org/pages/backstrap-weaving-in-guatemala
Nash, June, 2015, "Mayan Artisan Production: Creation of the World and the Re-creation of Another World," in Simonelli, Jean and Katherine O'Donnell, eds., Following the Heart Path: Artisans and Advocacy in the Global Market. School for Advanced Research Press.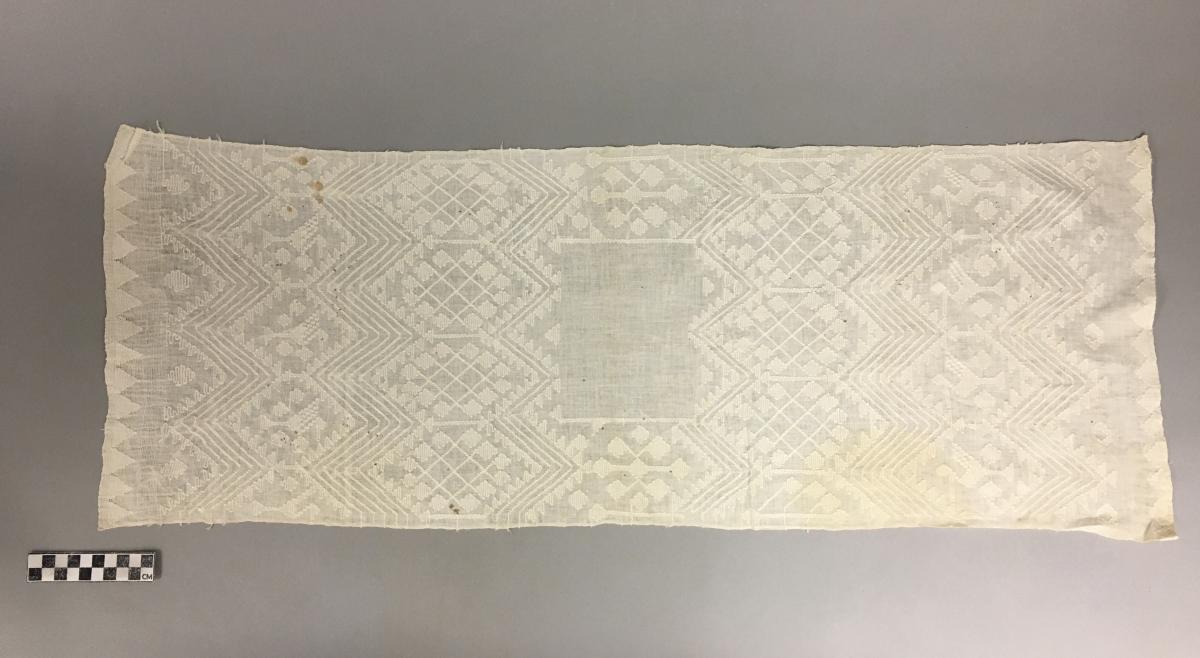 Images:
Top: Master weaver Concepción Poou Coy Tharin demonstrating the pikbil style of backstrap weaving
Below: 79.56.26: White-on-white central panel of huipil in gauze-weave with all-over brocade. Geometric design with band of birds within diamonds. Pik'bil style of the Coban Region of Alta Verapaz, Guatemala.