Maxwell Museum Blog
Post Date:
Wednesday, May 20, 2020 - 15:30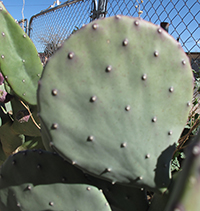 Edible Wild Plants of the Rio Grande region: For thousands of years people who lived off the land sampled and experimented with the many plants they encountered on their journeys.  They searched for plants that nurtured the body and soul and those that could be used to sustain life in dire times of drought and famine.  This vital information was encoded in stories and lessons that were passed from parent to child, equipping the new generation with the best available tools for survival in an environment that could be both benevolent and harsh.
A Place at Mother Earth's Table is an exploration of southwest native plants, their health benefits and their historic use by ethnobotanist Lisa W. Huckell, published by the Maxwell Museum for the Food and Life program. The well researched and elegantly written publication celebrates traditional wild plant knowledge of cultures past and present and the benefits these plants offer to all of us.
A Place at Mother Earth's Table: Edible Wild Plants of the Rio Grande Region