Maxwell Museum Blog
Post Date:
Monday, August 17, 2020 - 16:00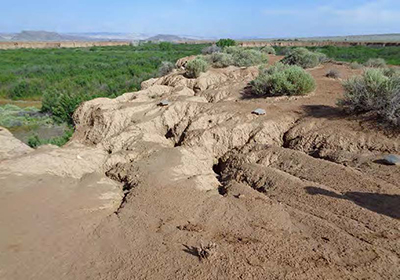 Two and a Half Centuries of Pottery Mound: New Chronological Evidence
By: Hayward H. Franklin, Research Associate, Maxwell Museum of Anthropology
Introduction:
Pottery Mound (LA 416), west of Los Lunas, New Mexico, is one of the best known and most studied prehistoric Pueblo sites of the Middle Rio Grande Region. Occupied during the Classic Period, the site began about A.D. 1300 or slightly later and lasted until at least 1550. This is not the date range usually assigned to the site; based on the dominant decorated ceramics, plus a few dates, in years past Pottery Mound was assigned only to the Glaze A horizon—about 1350 to 1450. The near-lack of absolute dates combined with a misunderstanding of the local pottery sequence contribute to the chronological confusion. This report applies new ceramic and other dating evidence to show that the occupation of Pottery Mound lasted much longer than many believed.
My collaboration with Michael Marshall of the Isleta Pueblo Historic Preservation Division and David Phillips of the Maxwell Museum of Anthropology, University of New Mexico, has been most valuable in this project. Research at the site continues and will certainly reveal additional insights; the data in this paper are current as of November 2017.
Full Article: Two and a Half Centuries of Pottery Mound