Maxwell Museum Blog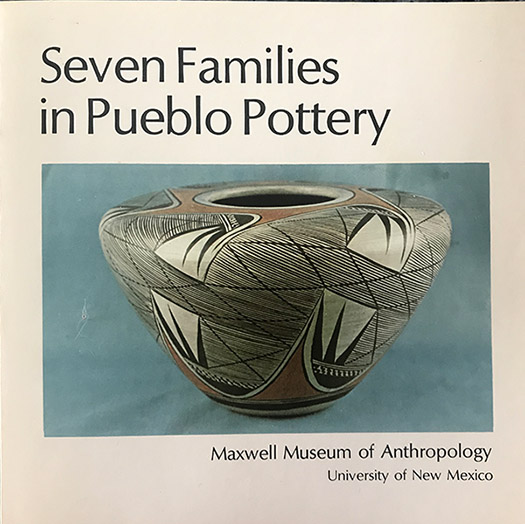 In the nearly 50 years since the Maxwell Museum of Anthropology has been in its present location, the Museum has hosted approximately 150 temporary exhibitions. Over the next few weeks, we will look back at some of them.
Seven Families in Pueblo Pottery
For many decades, museums—especially anthropology museums—have spoken of the need to change. There has been an ever-increasing cry to acknowledge the colonial roots of museum collections and traditional exhibition practices. Even as much work remains to achieve these goals, the Maxwell Museum of Anthropology is dedicated to that mission and we trace our roots responding to that call to 1974.
Seven Families in Pueblo Pottery, curated by Rick Dillingham—American ceramic artist, scholar, collector and museum professional—was called "the first [exhibition] of its kind," by the Santa Fe New Mexican. This exhibition of about 230 pottery pieces celebrated the works of individual Native American potters and families from the pueblos of San Ildefonso, Santa Clara, Acoma and Hopi in New Mexico and Arizona. Today it is common practice to recognize and exhibit the work of contemporary Native artists, but prior to Seven Families, exhibitions of Native art did not name artists and did not exhibit contemporary works.
The opening reception of Seven Families featured pottery demonstrations by Christina Naranjo and Mary Cain of Santa Clara Pueblo. Many other distinguished Pueblo potters attended, including Maria Martinez, famed potter and revivalist of black on black ware of San Ildefonso Pueblo, who had just turned 90, as well as her sister Clara, son Adam and his wife Santana, all noted potters in their own right. Anita Da, Tony Da, Tse Pe, and Dora Tse-pe from San Ildefonso Pueblo were also in attendance, as were Grace Medicine Flower, her brother Joseph Lonewolf and their father Camilio "Sunflower" Tafoya, Virginia Ebelacker, and Mela Youngblood of Santa Clara Pueblo; and from Hopi, Daisy Hoeee Nampeyo and Priscilla Namingha Nampeyo.
Nearly twenty years after the exhibition, Rick Dillingham revisited it and its influential catalog (which sold some 80,000 copies!) in his book Fourteen Families in Pueblo Pottery, celebrating the ongoing creativity and vibrancy of the pottery art in Pueblo communities.
References:
Seven Families in Pueblo Pottery. 1975. Maxwell Museum of Anthropology, University of New Mexico.
Dillingham, Rick. 1994. Fourteen Families in Pueblo Pottery. University of New Mexico Press, Albuquerque.