Maxwell Museum Blog
Post Date:
Monday, July 27, 2020 - 18:15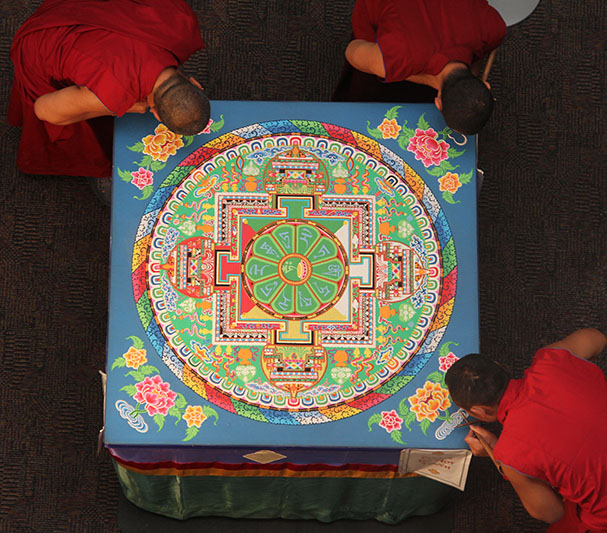 September 8 – 11, 2011
The Sacred Earth and Healing Arts of Tibet Tour of the internationally recognized Gaden Shartse Monastery made a stop at the Maxwell and presented a series of programs including a Sand Mandala, Journey to the Roof of the World: Sacred Dance and Chants of Tibet. The purpose of this and all tours is to be of service to the world community by nurturing the spread of peace, harmony, compassion and tolerance through educational and cultural exchange.
Green Tara Sand Mandala
Mandala means literally "that which extracts the essence." The monks created a two-dimensional sand mandala; a cosmic diagram that represents the dwelling place or celestial mansion of a deity. According to Tibetan Buddhist history, the purpose, meaning and the techniques involved in the spiritual art of the sand mandala creation were taught by Buddha Sakyamuni in the 6th century B. C. in India. The Green Tara, symbol of enlightened activity was created over the four days.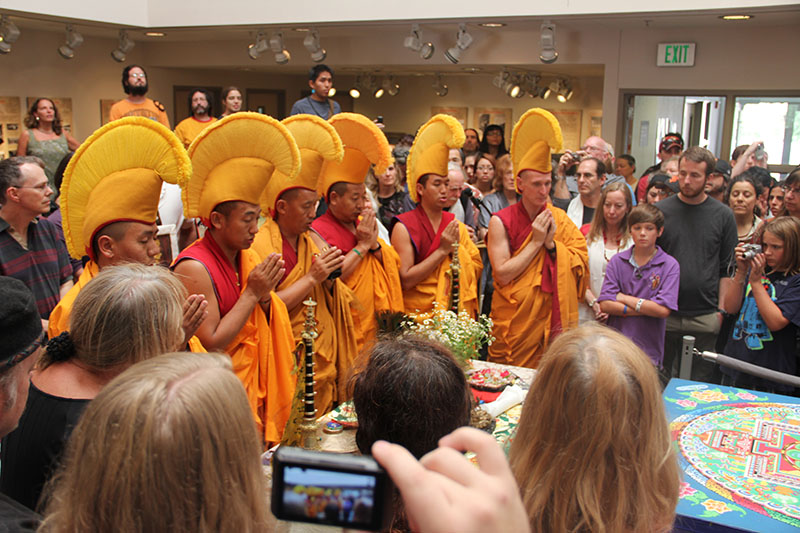 The monks, in full ritual dress performed ancient Tibetan buddhist chanting in front of an altar to Green Tara created specifically for this program. The chants create a special connection between the one listening and Green Tara. Tara is the female manifestation of the Buddha's omniscient mind. Tara is also known as the "Mother of all Buddhas" because she embodies wisdom – all Buddhas are born of this wisdom.
Founded in 1409CE, the Gaden Shartse Monastery is one of the three great monasteries of Tibet and is recognized among Tibetans as one of the most important seats of education for Tibetan culture.
Enjoy this video by: Dan Gottwald
Thanks to the many community partners that made the event possible with special thanks to Neal Copperman and AMP Concerts.