Maxwell Museum Blog
Post Date:
Thursday, May 10, 2018 - 16:45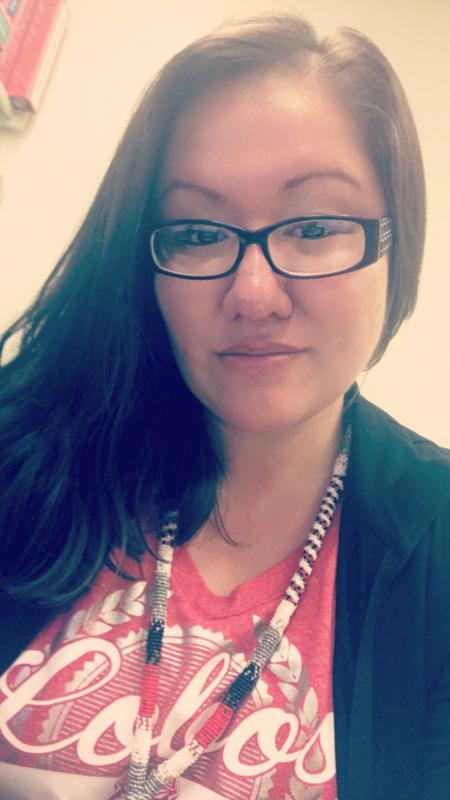 Alice Hollow Horn managed the Maxwell Museum store as an undergraduate. She currently manages things for the Dean of Arts & Sciences at the University of New Mexico.
Home town: Rapid City South Dakota Ellsworth Air Force Base
Currently lives in Albuquerque, New Mexico
Degree: Undergraduate: BA in Ethnology, Political Science Native American Studies
Major: Ethnology, Minor in Political Science and Native American Studies
Position at the Museum: Museum Store Manager   2004 – 2009
What is your current position- where are you now in your career?  I am an administrative assistant to the dean of the college of Arts & Sciences and scholarship coordinator, University of New Mexico. I am also enrolled in a graduate program in public administration, want to learn more Human Resource s.  I would like to learn Lakota, my native language and people, it expresses our world view.
What skills did you learn at the Maxwell that brought success? Customer service of course, but being knowledgeable about the books in the store, the exhibits, interacting with diverse visitors from around the world who want to know about the area. Working at the Maxwell is why I majored in Ethnology, it had been English and working at the store created the interest in ethnology, and I also took a Southwest Archaeology.
What advice would you give to current students?  Just be interested. Always focus on clear communication, customer service skills, no matter what kind of day you are having always have a smile on your face, you can change someone elses day just by smiling.
Be timely, be diligent in your tasks because the skills you learn now will be amplified in the work you do in your career.
Anything else you'd like to say?  I truly enjoyed coming here, opening and closing the Museum, setting things up and interacting with people of different backgrounds, they've got a lot of questions, and want to know about other cultural centers, in addition to the University and Maxwell Museum of Anthropology.
When I got started at the Maxwell I sat in the front desk in the HIbben and in the Maxwell then switched to the store.
Check out the College of Arts & Sciences: