Maxwell Museum Blog
Post Date:
Thursday, April 26, 2018 - 14:30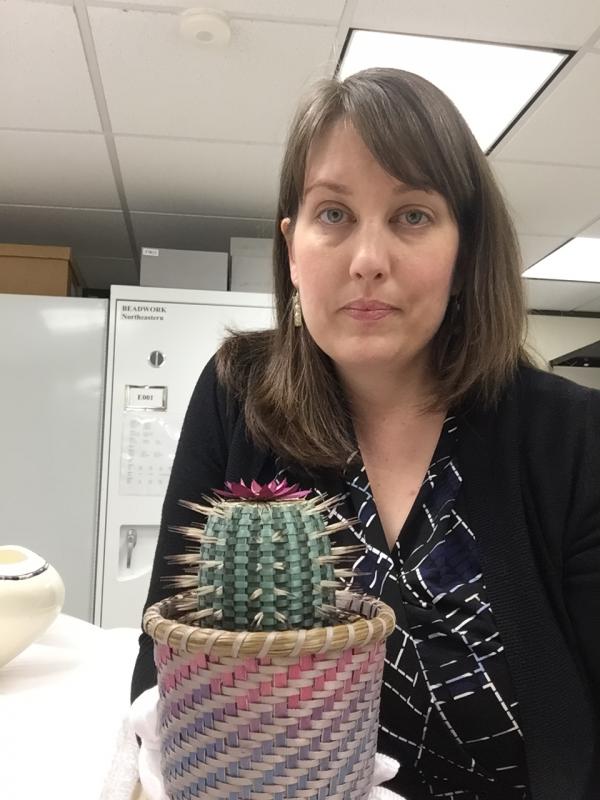 Gwen Saul
Home town: Austin, TX
Currently lives: Albany, NY
Graduate: Vassar College/University of NM Major: Anthropology (Cultural)
Position: 2004-2010, Intern, collections assistant, assistant curator
Currently:Curator of Ethnography and Ethnology at the New York State Museum
Working at the Maxwell exposed me to many aspects of museum work: stabilization treatment for objects, developing exhibit narrative and script, researching collections, and cultivating community outreach and partnership. Museum work often involves finding solutions to specific challenges and I enjoyed being part of that process at the Maxwell. For example, when I worked with Catherine Baudoin on the exhibit "Woven Stories," we wanted to include a beautiful textile woven by Red House Girl, a relative of contemporary weaver Gilbert Begay, in the Maxwell collection; however, the textile is something like 16' long and we wondered how we could display it without putting stress on the weaving and exceeding the budget. Mike Rendina solved the problem by stacking two display cases that were already built. Another example from my years at the Maxwell was cleaning an Acoma woven manta for exhibit and loan at the Sky City Cultural Center & Haak'u Museum. We didn't have a lab area inside so we set up a cleaning station outside on the loading dock with distilled water, a wooden framed screen, and t-pins. We carefully tested the textile for fugitive dye before gently submerging it in the water and later carefully pinning it to the screen to air dry.  So I learned firsthand to be resourceful at the Maxwell, and I'm very grateful for that experience.
Another truly wonderful part of being connected to the Maxwell is the proximity of the museum to so many Indigenous nations and a faculty and student body that includes members of those communities on campus. There are real opportunities to make collections accessible for scholars and community members, to support scholarship and art, and to re-think the purposes of museum collections and programming. As a graduate student working at the Maxwell Museum, I spent many years working on a community based oral history project on the Navajo Nation, which also fostered an interest in Navajo textiles. The Navajo textiles in the Maxwell Museum collections reflect aspects of Navajo philosophies and weavers' knowledge; they also tell stories about resistance to settler colonial intrusions on Navajo lands and ways of life, and they highlight innovations and experiments in techniques and aesthetics. I really enjoyed opportunities to work with Navajo weavers visiting the collection to learn from and connect with the work of their ancestors and relatives in very meaningful ways.
At the NYS Museum, I am working to cultivate relationships with Indigenous communities, scholars, and artists across the state and I am thankful for the years of related experiences I earned at Maxwell Museum that inform my current work.
What advice would you give to current students?  I entered graduate school with the goal of doing curatorial work in a museum and/or university setting. For a long time, I wondered if I would ever find the right position and the right institution. I took every opportunity I could find to work in, with, or near a museum. I also enjoy spending a weekend or vacation visiting museums, thinking about exhibits, and reading about anything related to museums. I think it takes perseverance to get where you want to be and good friends and family to remind you not to give up!
Anything else you'd like to say?  Thank you!