Maxwell Museum Blog
Post Date:
Tuesday, May 15, 2018 - 13:15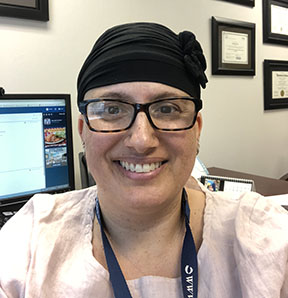 Shamsi Berry (formerly Shamsi Daneshvari)
Home town: Topanga, CA
Currently live: Madison, MS
Degree: PhD  Major: Anthropology/ Evolultionary Anthropology
Position at the Museum: Eight years as Chief Orthodontic Research Assistant/ Chief Laboratory Assistant at the Laboratory of Human Osteology
2001-2007, 2009-2011
What is your current position- where are you now in your career?
Assistant professor, Department of Health Informatics and Information Management, University of Mississippi Medical Center Biomedical Informatics Consultant
Within the next year also adding the title of Field School Director for our Asylum Hill Project on the Campus of University of Mississippi Medical Center
What skills did you learn at the Maxwell that brought success?
Building and maintaining databases, supervising others, skeletal analyses, curation of human remains, NAGPRA, processing human remains, running a skeletal donation program, excavating human remains.
What advice would you give to current students?
Say yes to different opportunities!
Anything else you'd like to say?
I look back on my time at the Maxwell Museum fondly! It is hard to write a list of skills that I learned at the Maxwell because I learned so much.
More on Shamsi: 
https://www.umc.edu/news/News_Articles/2017/January/New-SHRP-faculty-digs-big-data.html
https://www.umc.edu/news/Miscellaneous/2016/September/CISO--HIIM-specialist--pediatrician--radiologist-expand-Medical-Center-faculty.html
http://mississippimedical.academia.edu/ShamsiDaneshvariBerry