Maxwell Museum Blog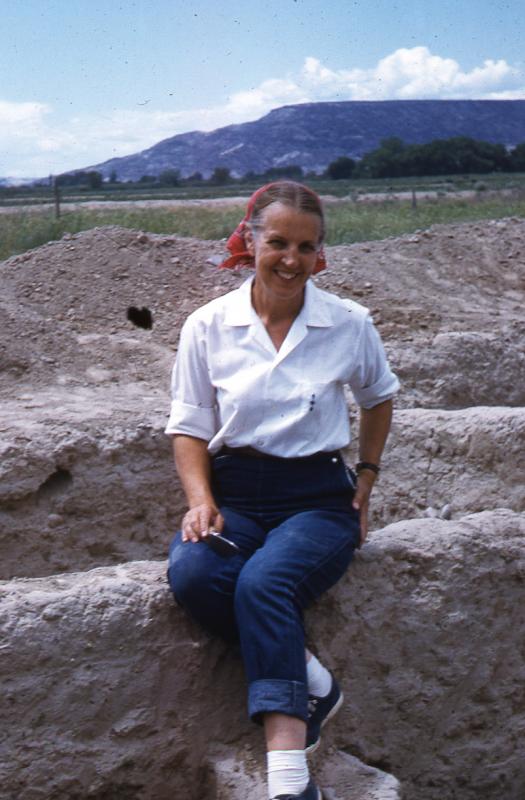 We celebrate #WomenInCulture  highlighting Florence Hawley Ellis.
Florence Hawley Ellis (b. 1906 – d. 1991) was born Cananea, Sonora, Mexico.  Ellis worked as both an ethnologist and archaeologist, receiving her Bachelors and Masters from the University of Arizona and her Ph.D. from the University of Chicago in 1934. Her dissertation focused on tree ring dating (dendrochronology) at the site of Chetro Ketl in Chaco Canyon, New Mexico.  She was one of the first researchers to focus on tree ring dating, doing early research in eastern North America (Norris Basin) in the 1930s. Ellis began teaching at the University of New Mexico in 1934, teaching courses on archaeology and cultural anthropology until her retirement from UNM in 1971.  In conjunction with teaching archaeology, she spear headed many archaeological field schools including Sapawe (1950s-1960s), Tsama (1971) and Yunque / Yungue (1950s). As a woman, she received less money teaching classes normally taught by men.
Not only a pioneer in her research and scholarship, she also helped pave the way for the acknowledgement and acceptance of women in academia. Ellis was honored as a Professor Emerita and, in 1988, was granted an honorary Doctorate of Letters by UNM. She also taught courses on archaeology at Ghost Ranch near Abiquiu from 1971 until her death. Her work at Ghost Ranch also involved excavations of Gallina area sites.  Ellis also served as a consultant in numerous lawsuits involving Native American land and water claims.
Florence Hawley married Donovan Senter in 1936 and had one child, Andrea "Donita" Senter. They divorced in the late 1940s and she then married Bruce Ellis, a historian working in Santa Fe. She remained married to Bruce Ellis until his death in 1985.
An exhibition case remembering archaeologist and Anthropology professor Florence Hawley Ellis is on view in the Anthropology corridor, around the corner from Hawley-Ellis' old office -now the Clarkfield Archive and Library. The objects for the exhibition were donated by her grandaughter Rieka Long.
At the Maxwell Museum of Anthropology - Florence Hawley Ellis Papers, 1859-2009 – Online Finding Aid https://rmoa.unm.edu/docviewer.php?docId=nmalummamma2.xml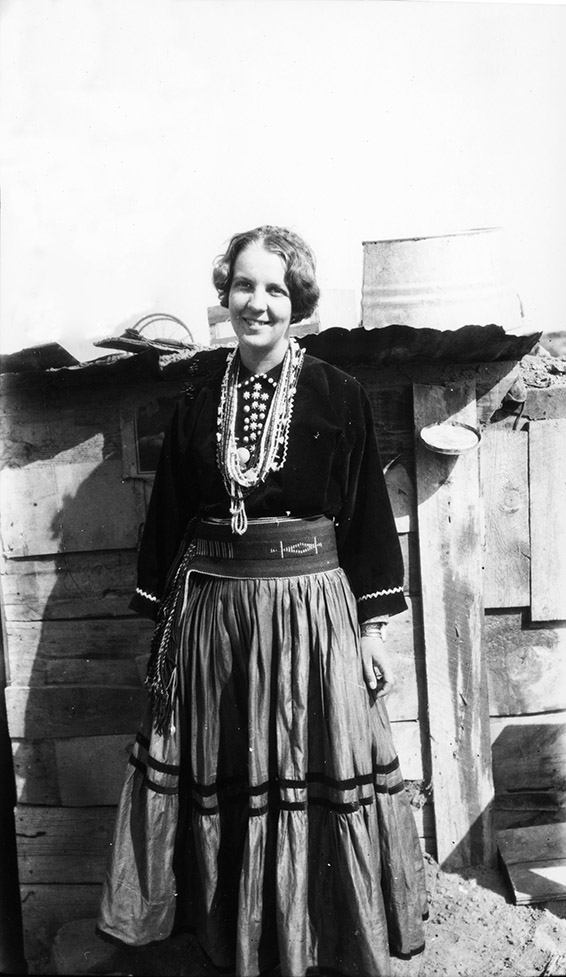 Florence M. Hawley wearing the clothes of Mary, the wife of Nachipani, a Navajo worker in Chaco Canyon, 1929. CCNHP Neg. 28704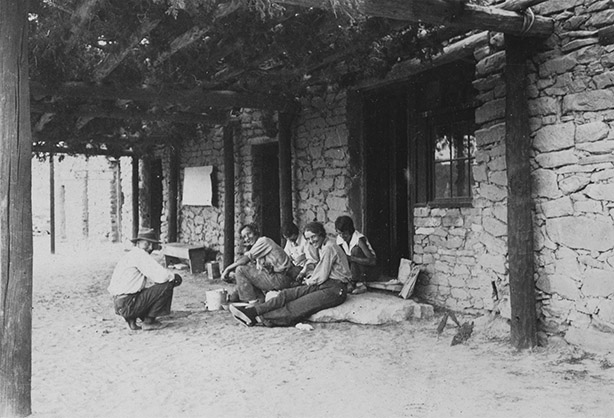 Peggy Foraker, Sara Goddard, Florence Hawley and Marjorie Ferguson cleaning pottery under the ramada at Chaco Canyon field school. MMA 2009.24.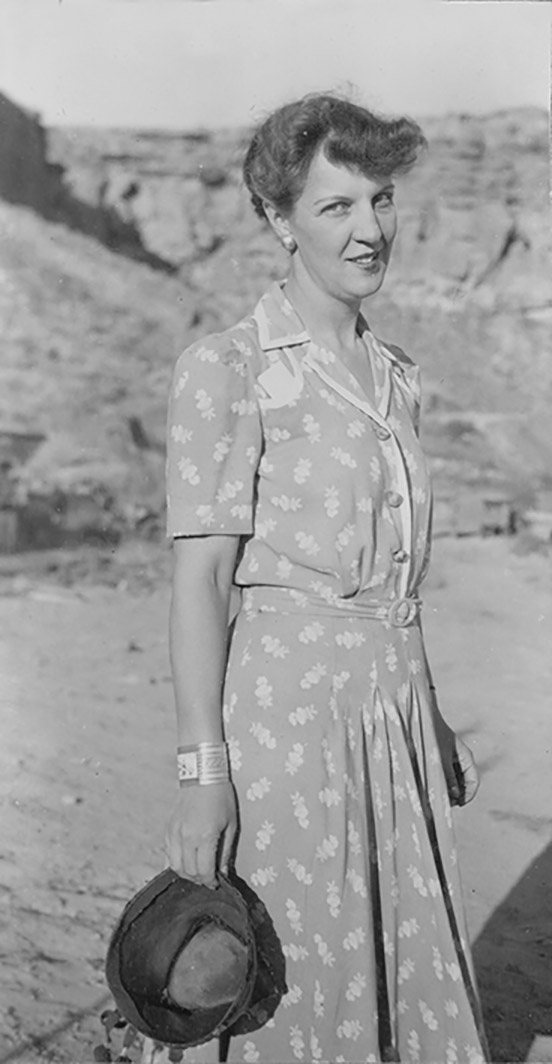 Florence Hawley Senter at Chaco Canyon, 1941. Photo courtesy of Armand Winfield. MMA
Florence M. Hawley wearing the clothes of Mary, the wife of Nachipani, a Navajo worker in Chaco Canyon, 1929. CCNHP Neg. 28704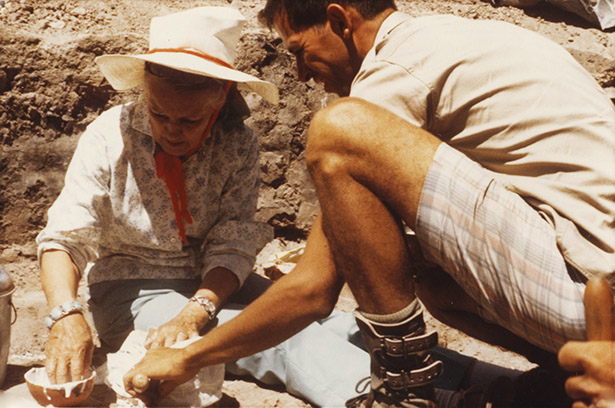 Florence Hawley Ellis and Tom Windes mixing plaster to encapsulate rusted metal object found in kiva fill. Photographed at Tsama site, 1970. MMA 2008.16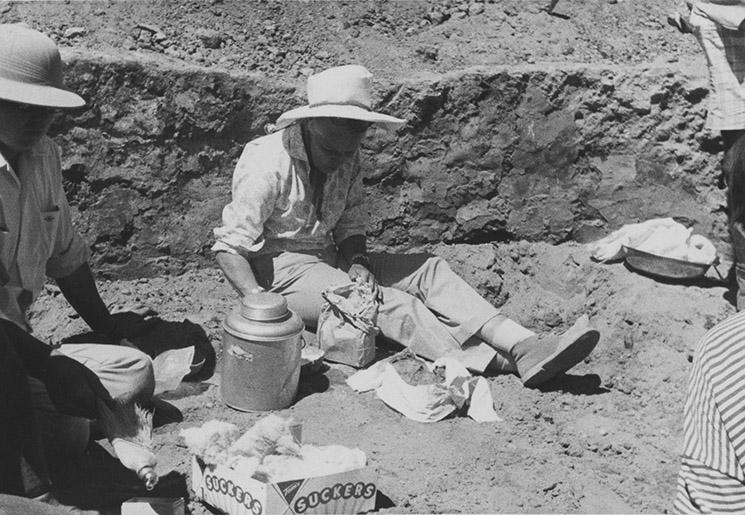 Florence Hawley Ellis - Tsama 1970 photo Thomas C. Windes