-News-
posted-on: Jun 29, 2020 10:24am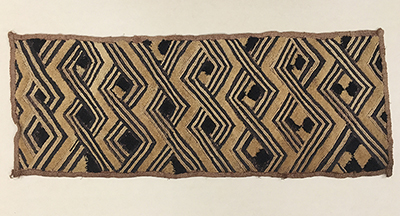 This rectangular piece of woven raffia palm fibers was made by the Kuba (or Bakuba) people, a cluster of Bantu-speaking groups in southeastern Congo (formerly Zaire). It was collected in Kinshasa in the 1960s and donated to the Maxwell Museum in 1983.
Design elements of Kuba textiles are created with woven, dyed, appliqued, embroidered, and cut-pile techniques. This piece has an overall asymmetrical design of overlapping and twisted zig-zag elements in black and natural tan colors. Different patterns and colors may refer to particular status of the owner or function of the cloth itself. The cloth can express social status, wealth, and personal states of transition.
Pieces of Kuba cloth can be used as elements of architecture, clothing, or ceremonial dress; can be transformed into items like headdresses, bags, and basketry; or can be used as "tribute cloth," gifts, or currency, among other uses. The creation of Kuba cloth is collaborative, with men, women, and children contributing to the creation of the raffia cloth. Traditionally men cultivate and process the raffia and create a plain woven foundation cloth on single-heddle looms. Women traditionally apply the surface decoration and assemble the cloth into its final product.
Catalog #: 83.30.25
Origin: Kinshasa, Democratic Republic of the Congo
Culture: Kuba (Bakuba)
Date: ca. 1960s
Collection: Ethnology
Post by Lauren Fuka
Additional resources:
https://africa.uima.uiowa.edu/media/photos/show/4624?back=peoples%2Fshow%2FKuba
https://exchange.umma.umich.edu/system/local_files/files/000/000/222/original/Adams_Kuba_Embroidered_Cloth.pdf?1490885287