-News-
posted-on: Oct 05, 2020 8:28am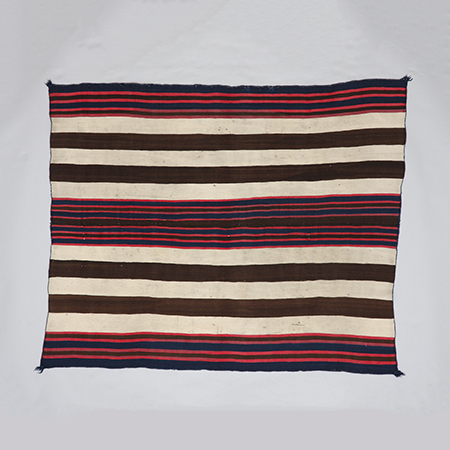 This Diné (Navajo) Hanoolchaadi or (First Phase) Chief Blanket was made ca. 1850-1860.
By: Lauren Fuka
Catalog #: 63.34.114
Culture: Diné (Navajo)
Artist: Unknown
Origin: SW United States
Date: ca. 1850-1860
Collection: Ethnology
This weaving, a Diné (Navajo) Hanoolchaadi or (First Phase) Chief Blanket, has horizontal bands of natural brown and white with three bands of red (cochineal) and blue (indigo) stripes. It was donated to the Maxwell Museum by Gilbert and Dorothy Maxwell in 1963. Prior to that it was owned by Major General F. Funston, who acquired it in 1915.
A Chief Blanket is a finely woven "wearing blanket," worn over the shoulders. Their widths are always greater than their lengths, and textile scholars have designated three "phases" to describe how the overall design characteristics have changed over time. The earliest Chief Blankets, the Phase One style, is the simplest design, with horizontal stripes of white and brown natural churro wool with three bands of indigo blue and/or raveled red. Phase One Chief Blankets are quite rare, with an estimated 50-100 still existing today. Phase Two style is similar to the Phase One but is recognized by the addition of twelve bars or rectangles placed in the three bands (four in each band). Phase Three Chief Blankets are the most elaborate, with three bands overlaid by serrated or terraced diamonds or triangles (three in each band). These design phases are somewhat generalized, with a good deal of variability of styles.
Historically, these wearing blankets were made for use and wear by Navajo people, and were connected to Navajo community, cosmology, and ceremony. But gradually the Hanoolchaadi became valued as an article for trade. Highly prized, they were traded across the Southwest, Great Basin, Plateau, and Plains and often worn by people of high status. The blankets were so closely associated with the Navajo people that in the Lakota and Apsáalooke (Crow) languages, the term for Navajo people is "those who make striped blankets" (Montaño and Yohe 2017: 20).
Although these textiles were not made to be worn only by tribal leaders, they were made by expert weavers (among the Navajo, women are the principal weavers) and the quality of weave and distinctive design contributed to their high value in sale or trade. These features meant they were not available to everyone. Worn by both men and women throughout Native North America, the term "Chief's Blanket" was coined by traders to acknowledge the distinctive qualities of these finely woven textiles.
To learn more about Chief Blankets, check out this fascinating article by Roshii Montaño and Jill Ahlberg Yohe (2017), entitled "Blanketing the Plains: Hanoolchaadi in Indian Country" in First American Art Magazine (begins at page 20):
https://view.joomag.com/first-american-art-magazine-no-14-spring-2017/0364299001497837089?short&
Additional Resources:
Check out this Phase One Chief Blanket at the Smithsonian National Museum of the American Indian: https://americanindian.si.edu/exhibitions/infinityofnations/southwest/118280.html#about
Rodee, Marian E. Southwestern Weaving. Maxwell Museum of Anthropology, 1977.