-News-
posted-on: May 11, 2020 9:32am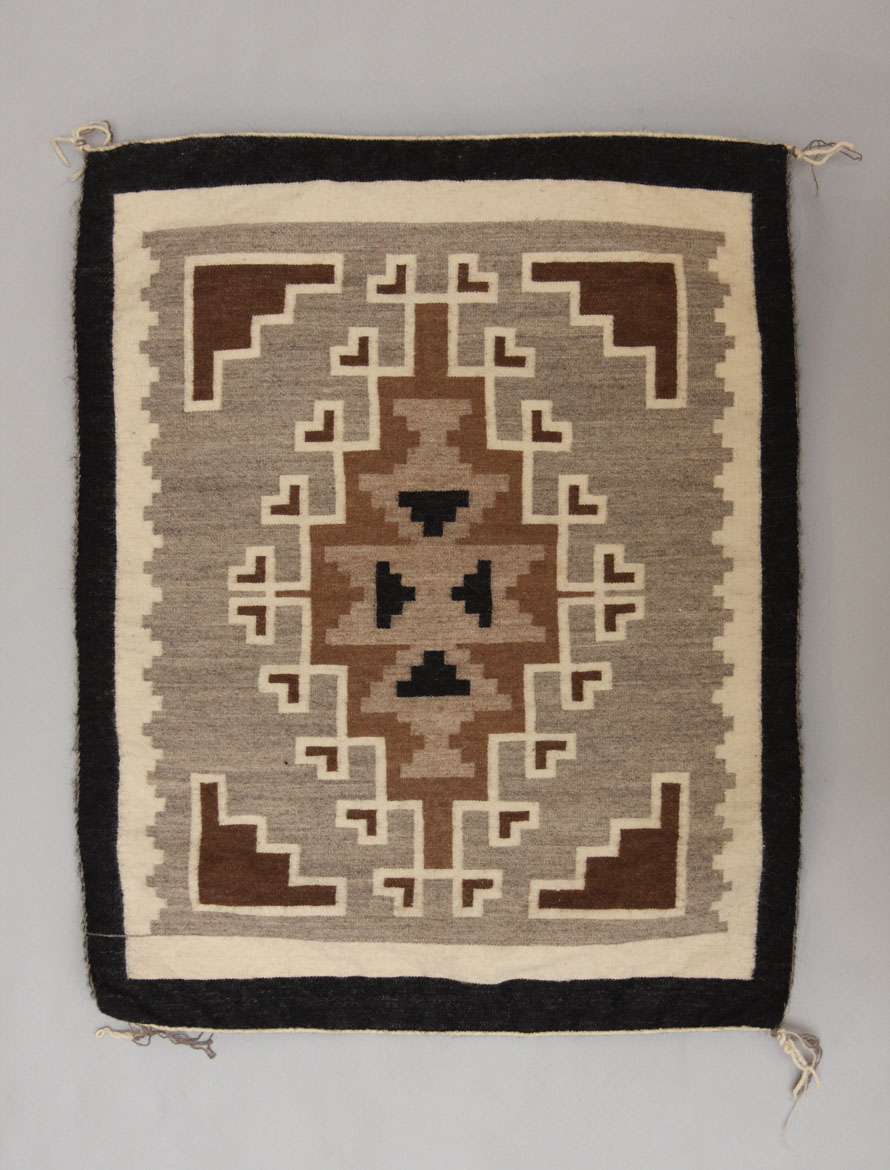 The Maxwell Museum is recognized for its extensive Southwestern textile holdings, in particular its Navajo collection. The collection includes weaving styles spanning the "Classical" period (1800-1880), the "Eye Dazzler" period (1880-1900), the "Early Rug" period (1900-1920), and the "Modern Regional" period to the present day. Among this collection are some of the earliest known Navajo textiles, as well as items of wearing apparel from the nineteenth century "Classical" period.
The "Early Rug" and "Modern Regional" periods were especially influenced by traders initiating markets for their work, encouraging Navajo weavers to make items, including rugs, for sale and use outside their communities.  They encouraged weavers to make particular styles with identifiable qualities, and these designs became recognizable regional styles named after local trading posts. As markets developed and weavers and their family members became better known, individual makers were recognized, with growing demand for their individual work. 
Two Grey Hills style rugs began to develop around 1910-1915 and are named for the Two Grey Hills trading post in Northwestern New Mexico.  They are characterized by intricate geometric designs with four-fold symmetry, woven with handspun natural (undyed) wool that has been very finely spun. Although natural and commercial dyes were available even in the nineteenth century, Two Grey Hills weavers primarily utilize the natural colors of the wool of their sheep, carding different colors of undyed wool together to create a variety of hues. Two Grey Hills rugs are made by Navajo weavers today, with very intricate designs and a higher wefts-per-inch count than weavings from other areas.
The weaving featured here is an example of the Two Grey Hills style of Navajo rugs. This weaving was made around 1966 and is attributed to Daisy Taugelchee, a master Navajo weaver born around 1910. Daisy Taugelchee is considered to be one of the most well-known Navajo weavers in this style. 
For more information about Daisy Taugelchee, visit:https://www.navajotimes.com/entertainment/culture/2011/011311daisy.php
Object: Two Grey Hills Navajo Weaving
Maxwell Catalog#: 88.14.1
Division: Ethnology
Origin: New Mexico
Date: ca. 1966
And check out this video with Two Grey Hills master weaver Barbara Teller Ornelas
For a discussion of how weavers converted the trading enterprise to their own system of values, see:
Patterns of Exchange: Navajo Weavers and Tradersby Teressa J. Wilkins.
https://www.oupress.com/books/9782009/patterns-of-exchange
For a perspective on weaving across generations in Navajo families, see:
Weaving Women's Lives: Three Generations in a Navajo Familyby Louise Lamphere
https://unmpress.com/books/weaving-womens-lives/9780826342782
For a discussion of Navajo women's leadership roles in politics and art, see the essay: 
"Acknowledging Women in Navajo Society: Leaders and Weavers" by renowned Navajo weaver DY Begay on Annie Wauneka, the weaver of one of the rugs in the Maxwell's collection.
The essay is included in Hearts of Our People: Native Women Artistedited by Jill Yoge and Teri Greeves
https://uwapress.uw.edu/book/9780295745794/hearts-of-our-people/
For a video featuring Navajo weaver DY Begay, see:
Post by Lauren Fuka