-News-
posted-on: Oct 12, 2020 8:41am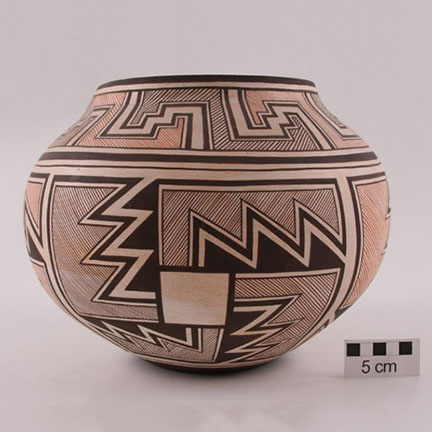 A polychrome olla by mother and son potters Josephine and Randy Nahohai of Zuni Pueblo, ca. 1986.
This polychrome jar was made by Zuni potter Josephine Nahohai and painted by her son Randy Nahohai in the mid-1980s. The neck is covered by a wandering meander design with orange and brown fringing. The main body has diagonal and vertical sawtooth elements comprising a pinwheel design that emanates from open squares. Purchased by the Maxwell Museum Association in 1987, it was featured in the Museum's exhibition "From the Center Place: Contemporary Zuni Pottery and Its Makers."
 
The Nahohai family was an influential family of A:shiwi potters. Josephine Nahohai (1912-2007) and her son Randy Nahohai (1958-2016) worked throughout their lives to reestablish and enrich the pottery tradition in their community. Josephine started making pottery in the 1950s and also taught pottery making at Zuni High School. She studied traditional Zuni designs from both archaeological ceramics and pots in museum collections in order to reincorporate those designs into Zuni ceramics. Randy was also known for creating innovative designs influenced by these ancestral forms and motifs. According to Randy, the designs on this olla were inspired by Mimbres designs.
 
Catalog #: 87.48.20
Culture: A:shiwi (Zuni Pueblo, Zuñi)
Artist: Josephine Nahohai and Randy Nahohai
Origin: Zuni Pueblo, New Mexico
Date: ca. 1986
Collection: Ethnology
 
Further Reading:
 
"Pride Flared Up: Zuni (A:shiwi) Pottery and the Nahohai Familiy" by Edward A. Chapel, 2015, in Ceramics in America. Available online at:
http://www.chipstone.org/article.php/721/Ceramics-in-America-2015/Pride-Flared-Up:-Zuni-(A:shiwi)-Pottery-and-the-Nahohai-Family
 
Gifts of Mother Earth: Ceramics in the Zuni Tradition, by Margaret Ann Hardin, 1983, Phoenix: Heard Museum.
 
By: Lauren Fuka