Maxwell Museum Blog
To commemorate pride month, and to express our support for the LGBTQ+ community, throughout the month, the Maxwell Museum of Anthropology will be posting relevant blog posts written by scholars and curators that tell related stories, as they are to be found embedded in our collections.
Histories, cultures and stories of the LGBTQ+ communities and historic antecedents are often hard to find in museum collections, and museums themselves have often been guilty of ignoring, erasing or obscuring them. The Maxwell Museum of Anthropology is committed to recovering and highlighting these stories, communities and individuals, and the blogs we will post throughout the month are part of fulfilling that commitment, and celebrating the immense contributions of LGBTQ+ people to the human story.
Please celebrate Pride Month with us, and offer us feedback at maxwell@unm.edu.
------------------------------------------------------------------------------------------------------------------------------------------------
See also Post 1: Queer Anthropology
------------------------------------------------------------------------------------------------------------------------------------------------
Ethnographic Photograph Collections and Other Gendered Stories
by Devorah Romanek, Maxwell Museum of Anthropology Curator of Exhibits and Head of Interpretation, and Queer Anthropologist.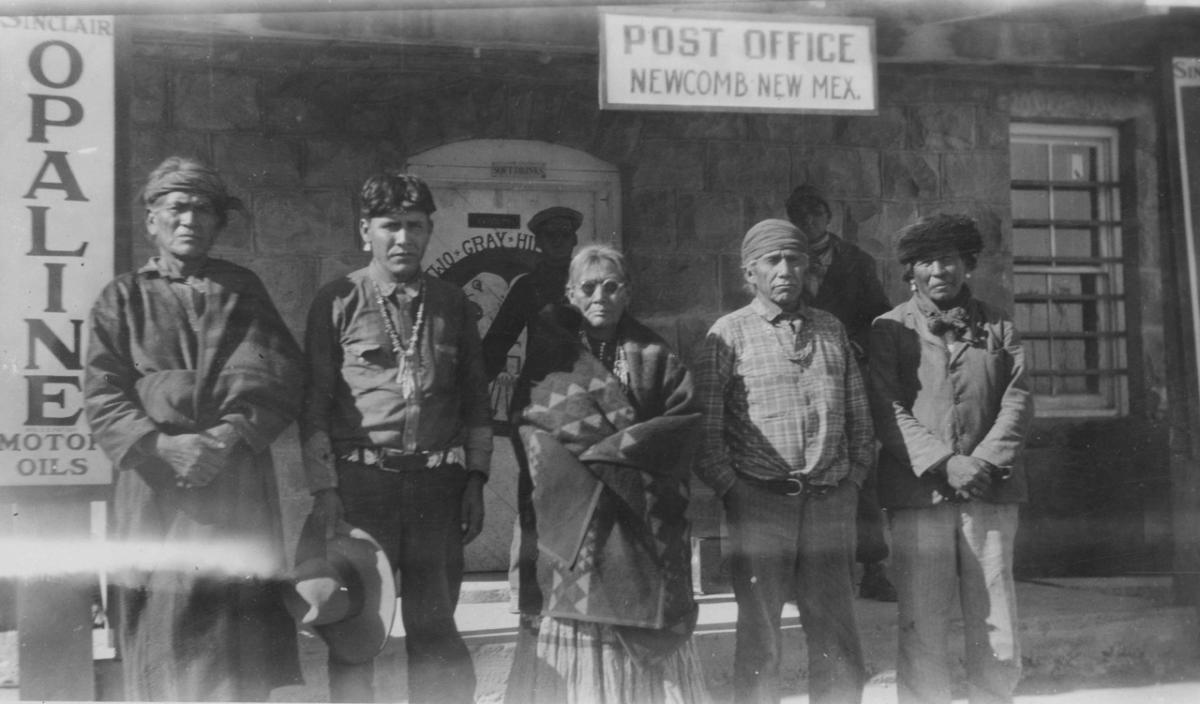 Hostiin Klah, left, next to Hoshun Hatile and Klah's mother and father, and an assistant of Klah's, Newcomb, New Mexico, ca 1920s, by Franc Newcomb (Maxwell Museum of Anthropology, 2012.201.36a)
In addition to object collections, the archives of many anthropology museums contain documents, ephemera and ethnographic photographs. As with object collections, within those photograph collections can be found hidden, obscured, and distorted histories and stories of people with variable genders or sexualities.
In ethnographic collections across the United States and around the world, are photographs of individuals who had variable sexualities or genders. Such photographs are often overlooked: because we don't know what we are looking for, or what we are looking at, because the knowledge of such people and practices in cultures around the world has been pushed underground by heteronormative imperatives imposed by colonialism.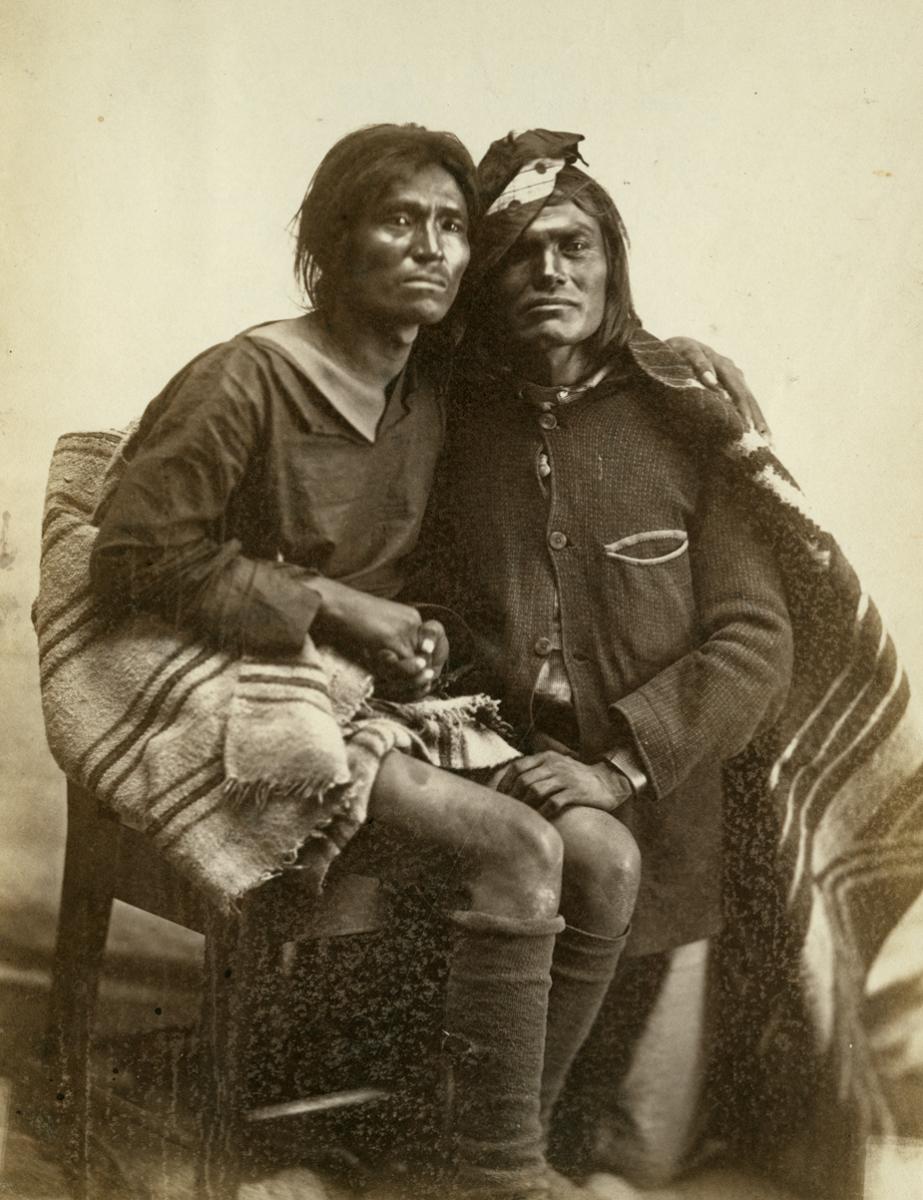 This photo, originally labeled "Navajo Thieves," has long been used as an example of a "Two-Spirit" couple, which it most assuredly is not. The image depicts to Navajo men, likely related, en route to or at Fort Sumner, New Mexico Territory, ca. September 1866. (Seated, right) Possibly El Ciego, Manuelito's older brother. (Palace of the Governors Photo Archive, New Mexico History Museum 038203)
In some cases, we think we know what we are looking at, and mistakenly label a person or persons portrayed in such an image as other-gendered.  This is a result of ignorance and bias, overlaying contemporary understanding of such practices in a way that does not match the historical record. For example, one of the most circulated photographs of a "two-spirit" couple, is in fact not that at all, a topic that I have written about, together with the scholars Professor Jennifer Denetdale, UNM Professor of American Studies, and Curator Hannah Abelbeck of the New Mexico History Museum. "Two-Spirit" is a pan-Indian term within some Indigenous communities, encompassing cultural, spiritual, sexual and gender identity. The term reflects complex Indigenous understandings of gender roles, spirituality, and the long history of sexual and gender diversity in Indigenous cultures.
In general, it is not common to find named individuals in ethnographic photograph collections. For many if not most, photographs of people found in such collections, particularly those taken in the 19th century, the point of the photograph was to create an image that was illustrative. Photographic subjects were treated more as specimens than humans, with portraits meant to typify whole cultures, or sub-sections of cultures rather than allowing the sitters to be seen as sovereign individuals. However, in some cases, we do know the names and stories of variably gendered individuals portrayed in ethnographic photographs.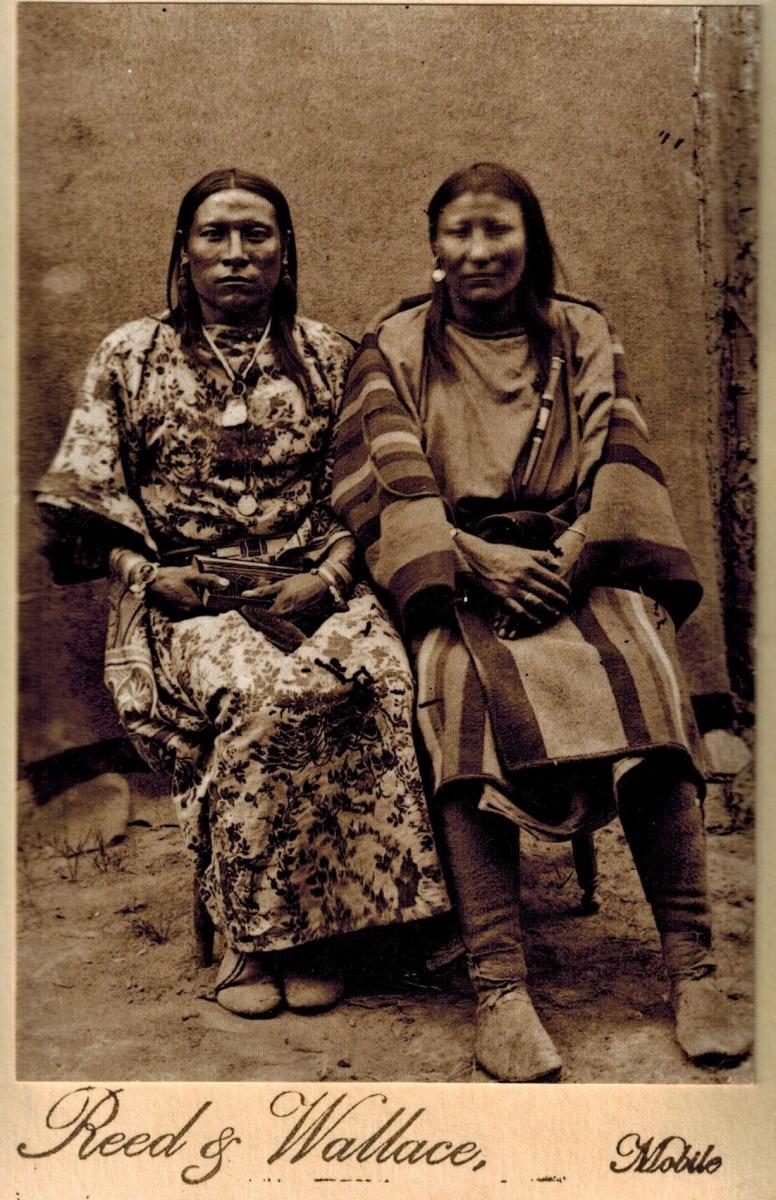 Osh-Tish (Finds-Them-and-Kills-Them) (left), and wife (right), Crow, 1877, by John H. Fouch. (Public domain)
For example, in North America, there are a handful of such individuals who were photographed numerous times. Their portraits and stories, documented to varying degrees, are found in many photo archives.
Perhaps the earliest known photograph of a Native American other-gendered person or persons is this 1877 photograph of Osh-Tisch (Finds-Them-and-Kills-Them) and wife. Osh-Tisch was a Crow badé. In Crow culture, a badé (also spelled baté) is a male-bodied person who takes part in some of the social and ceremonial roles usually filled by women. Osh-Tisch fought in the 1876 Battle of the Rosebud in which the United States Army and its Crow and Shoshoni allies fought against the Lakota and Cheyenne. Osh Tish was not the only woman to fight in that battle. Her friend The-Other-Magpie fought in that battle as well, and perhaps it is The-Other-Magpie who is Osh-Tisch's wife in this photo.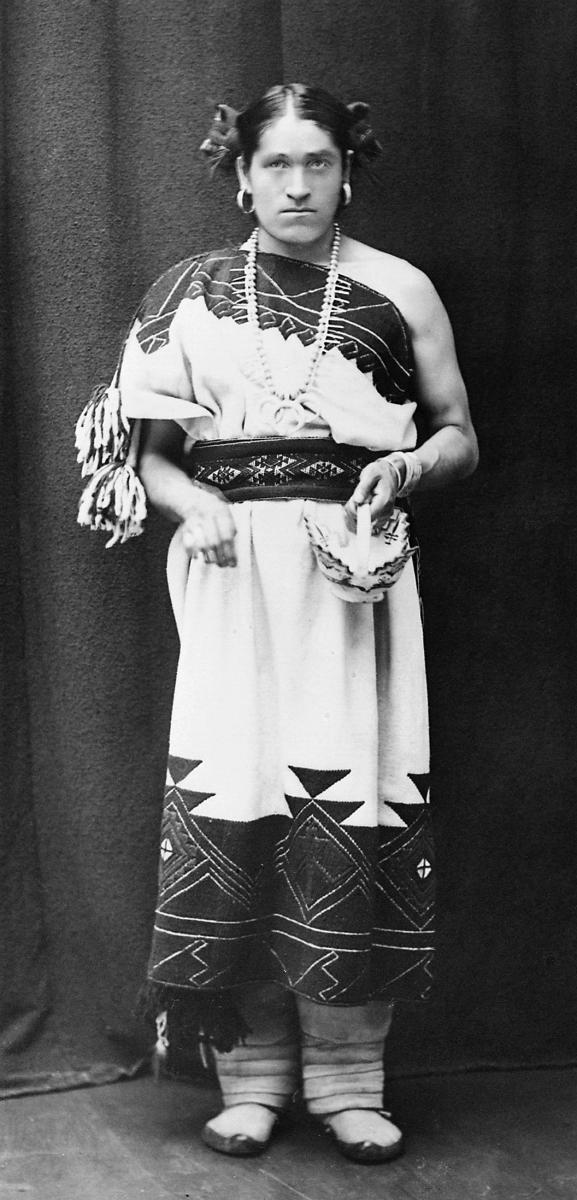 We'Wha, Zuni,1879 – 1894, by John K. Hillers. (Public domain, National Archives)
One of the most photographed and best documented gender-varied people is We'wha. We'wha was a lhamana (Zuni Two Spirit) individual, who took on both male and female tasks. She was a weaver and potter and an important figure in the burgeoning 19th century Native American arts market. In 1879 We'wha became friends with the anthropologist Matilda Cox Stevenson and went on to be part of the 1885 Zuni delegation to Washington, D.C. to meet with government officials.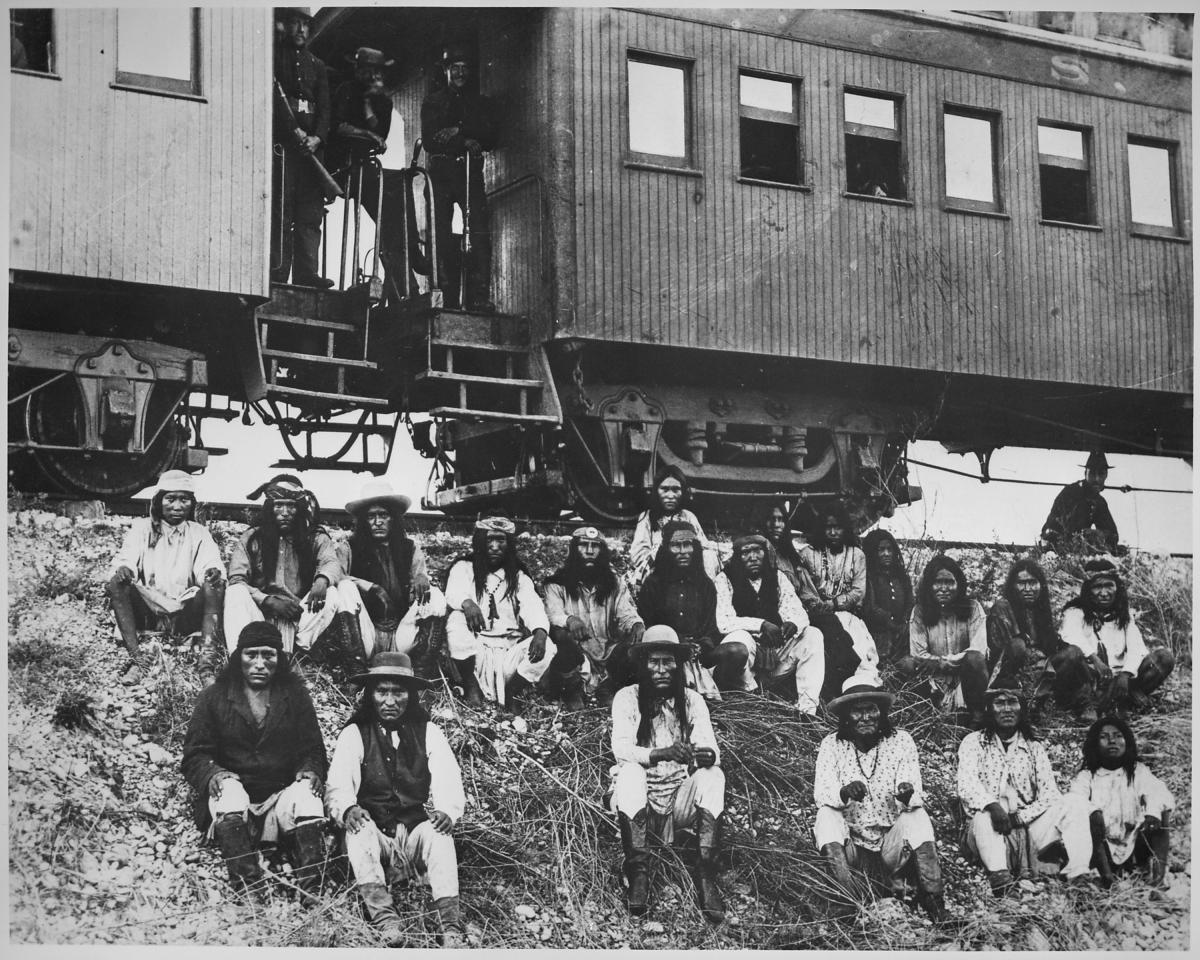 Chiricahua Apache Prisoners, Including Geronimo, fourth from left bottom row, and Lozen and Dahteste seated next to each other, 5th and 6th from right, top row. Apache, 1886, by unknown photographer. (Public domain, National Archives)
Another important photograph depicts the recently surrendered Mescalero-Chiricahua Apache leader Geronimo (Goyaałé) and other surrendered warriors.  On September 4th, 1886, after being pursued by U.S. government troops, surrendered. Among his surrendered warriors, seen in the picture above taken as the group were en route to captivity, were two Chiricahua women warriors and friends, Dahteste and Lozen (seated 5th and sixth from the right in the top row, respectively).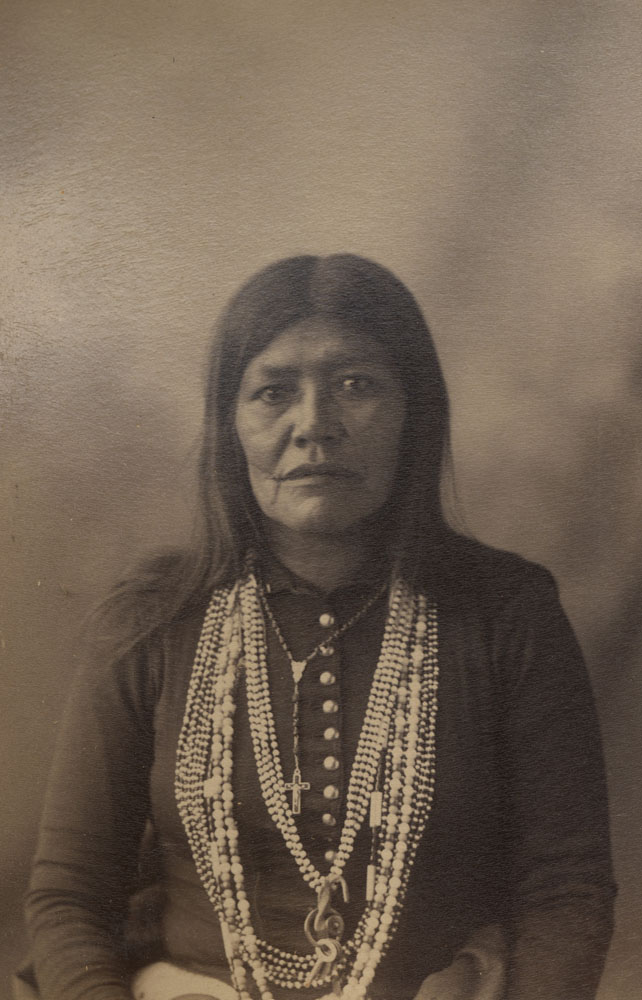 Dahteste, Chiricahua Apache, 1898 , by F.A. Rinehart. (Public domain, Omaha Public Library)
Dahteste (Dadezhti) is also depicted in a much later photograph.  She was born into the Chokonen band in the 1860s and was a hunter, warrior and mediator. She spent eight years in prison at Fort Marion, in Florida and 19 years imprisoned at Fort Sill, Oklahoma. When finally released from prison, she lived the rest of her life on the Mescalaro Apache Reservation in New Mexico.
Lozen, born in the Chihenne band in the 1840s, was the sister of famed Apache leader, Victorio. As a child she was not interested in a women's role, learning to ride a horse when she was only seven. Lozen fought in many battles in defense of her people, before ultimately surrendering with Geronimo in 1866. She was imprisoned in Alabama and died of tuberculosis after three years of imprisonment, never to return to her homeland.
While Dahteste was married, both she and Lozen, like numerous other Native women from across North America, defied gender roles, taking on the role of warrior. The Crow warrior The-Other-Magpie, mentioned above is another example.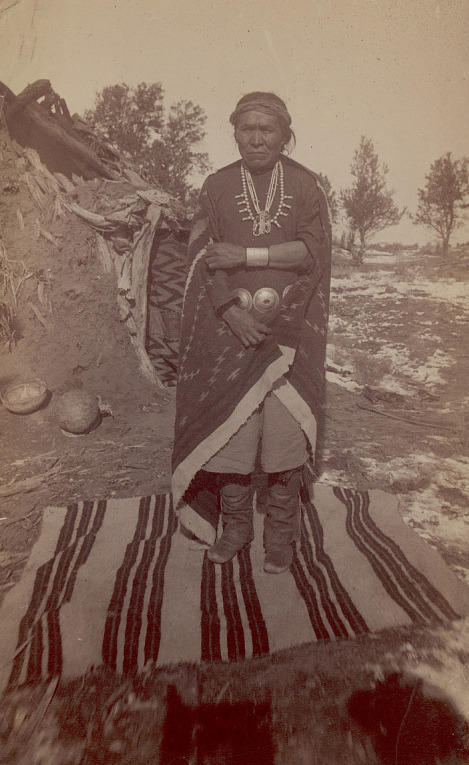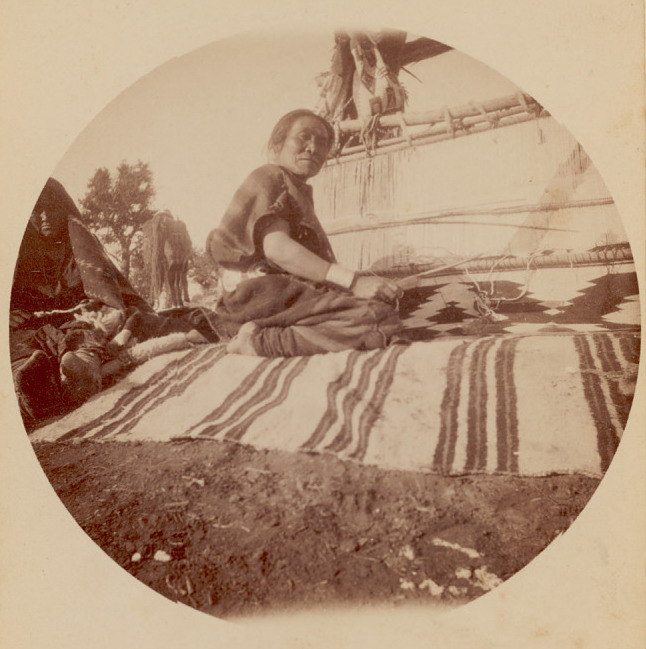 Charlie, Diné, outside his Hogan, Keams Canyon, Navajo Reservation, 1893, by James Mooney; and Charlie Weaving, 1892, also by Mooney. (Public domain, The Smithsonian Institution National Anthropological Archive)
Another gender-varied person found represented in ethnographic photograph archives and collections is known as Charlie (Nûtli), the Diné nádleehí, weaver and hatáałii (chanter and singer, someone who holds specialized knowledge that is used in the healing ceremonies of the Diné people). In Diné ontology, there are generally four genders. Nádleehí, which translated in English means "one who transforms," is the term used for those who take on the behaviors and roles of the opposite gender and have partners that, in the larger hegemonic American culture would be called "same sex partners."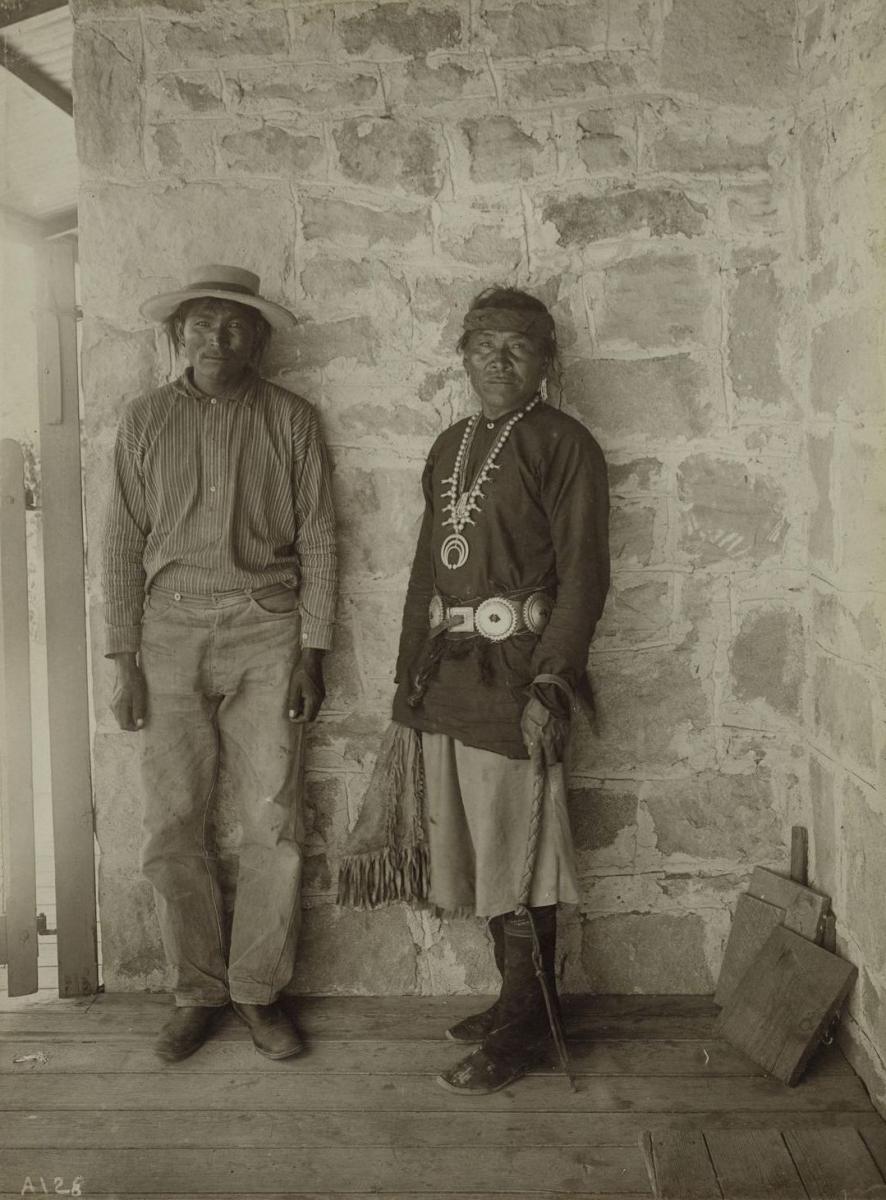 A Hopi Interpreter, left, and Charlie, Diné, 1895, by Adam Clark Vroman (Public domain, Princeton University Library's Special Collections)
Three photographs taken by well-known ethnographic photographers James Mooney and Adam Clark Vroman in 1892, 1893, and 1895 are thought to depict Charlie. Vroman, in his notes, specifically refers to Charlie as nádleehí. In Mooney's 1892 photograph, Charlie's status of nádleehí is inferred by the fact that he is a weaver, an activity typically undertaken by Diné woman. In his 1893 photograph Charlie appears to be wearing a biil, a Diné women's dress.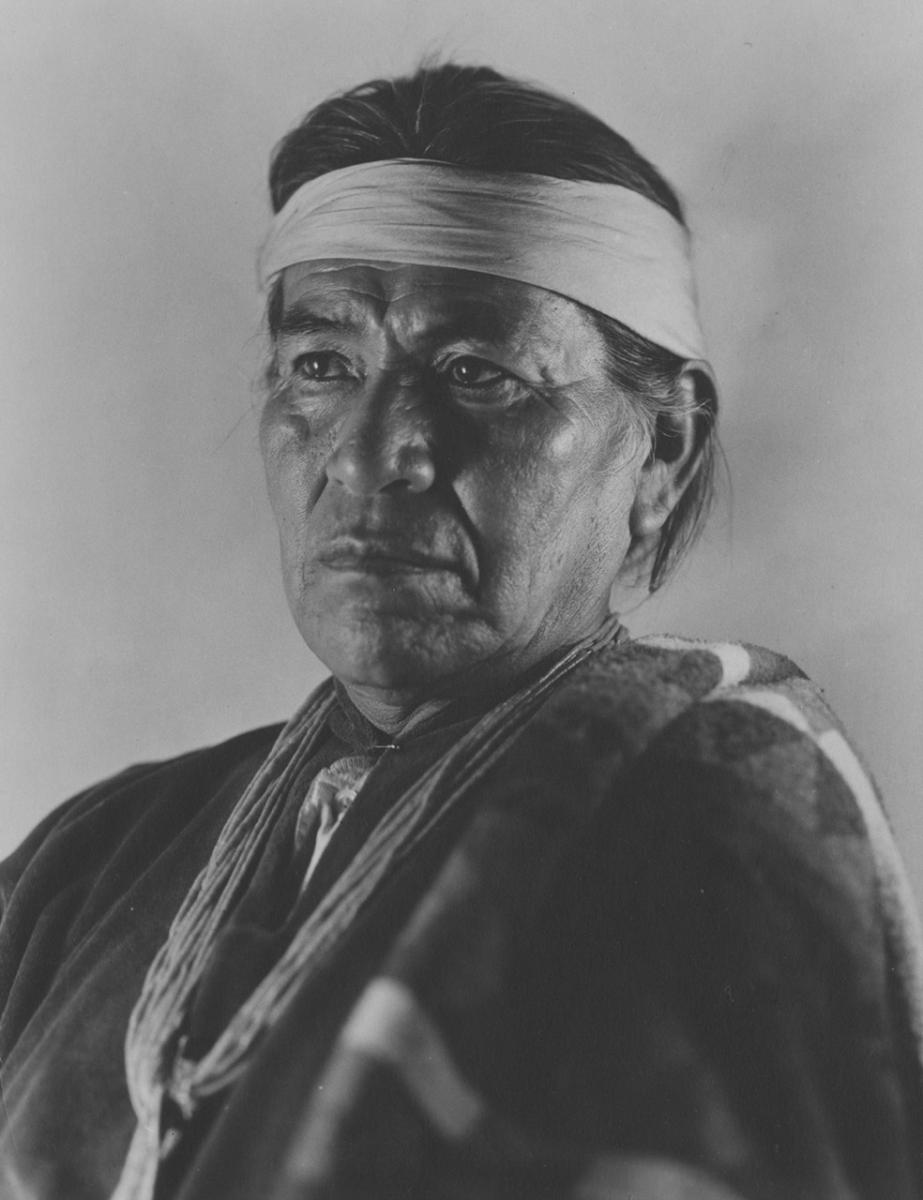 Hostiin Klah, Diné, ca 1920, by T.H. Parkhurst (Maxwell Museum of Anthropology, 2012.201.85)
The last example of a gender different Native American found portrayed in a photograph found in a museum ethnographic collection, comes in fact from the Maxwell Museum of Anthropology Archives. The Maxwell Museum Archives contains approximately 100,000 photographs, including an important collection with numerous images of another Diné nádleehí, weaver and hatáałii: Hostiin (also Hosteen) Klah.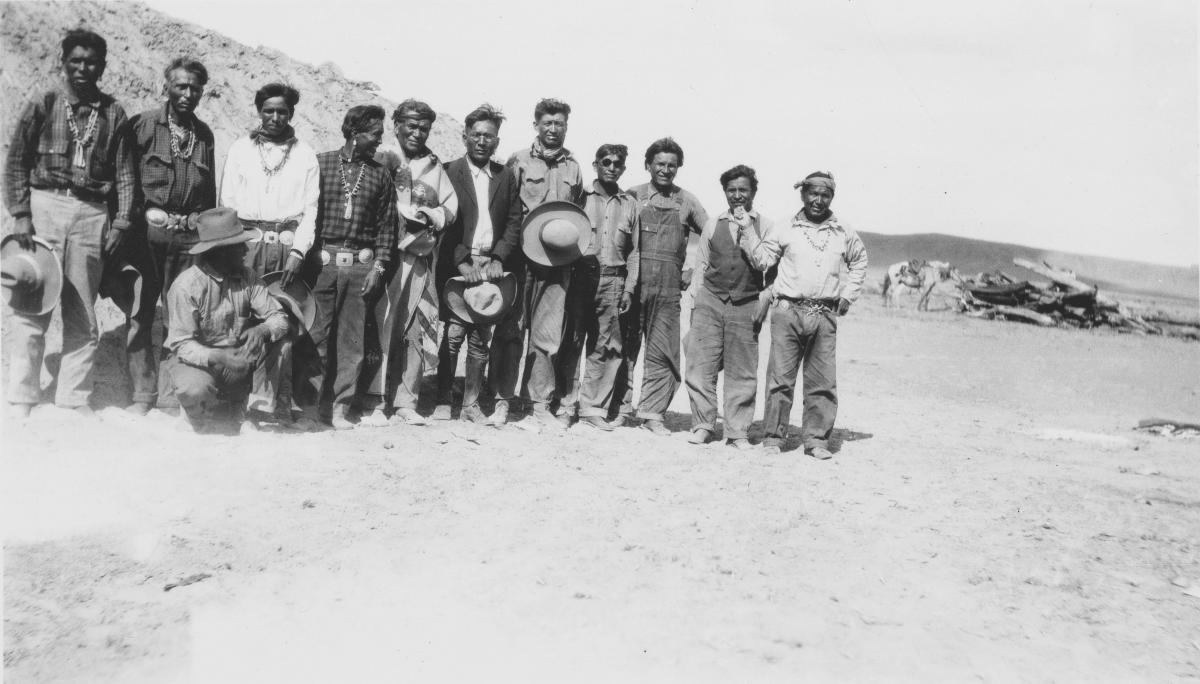 Hostiin Klah wrapped in blanket, center, and Diné men who assisted in building the community lodge, ca 1920s, by Franc Newcomb (Maxwell Museum of Anthropology, 2012.201.77)
The Franc (Frances) Newcomb collection of photographs, donated to the Maxwell Museum in 2012 by Morton Sachs, contains numerous photographs of Klah and his family and community. Hosteen Klah was born in 1867, the last full year of internment of most Diné people at the Bosque Redondo, where they had been interred since 1864 by the U.S. government after being forcefully removed from their homelands. When Klah was 27, he met Franc Newcomb, who had just moved to Fort Defiance, Arizona, on the Navajo Nation.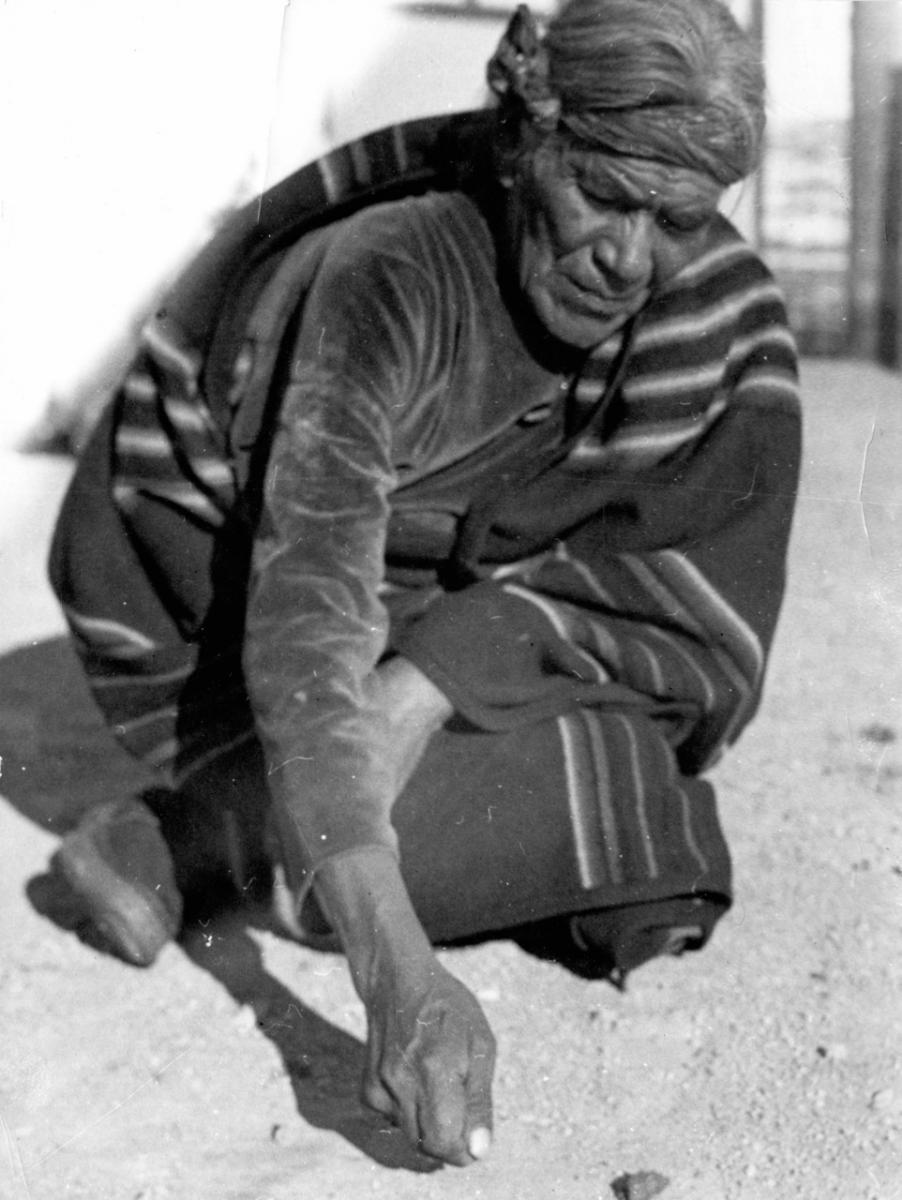 Hostiin Klah, demonstrating painting with sand, ca 1930s, by Franc Newcomb (Maxwell Museum of Anthropology, 2012.201.80)
Newcomb, born in Wisconsin, moved to the Southwest in 1912, when she was 25, where she taught Navajo children at a government boarding school at Fort Defiance. While there, she met and Married A.J. Newcomb, and the two went on to run a trading post on the Navajo Reservation in Newcomb, New Mexico. It was at the trading post that both Newcombs met Klah.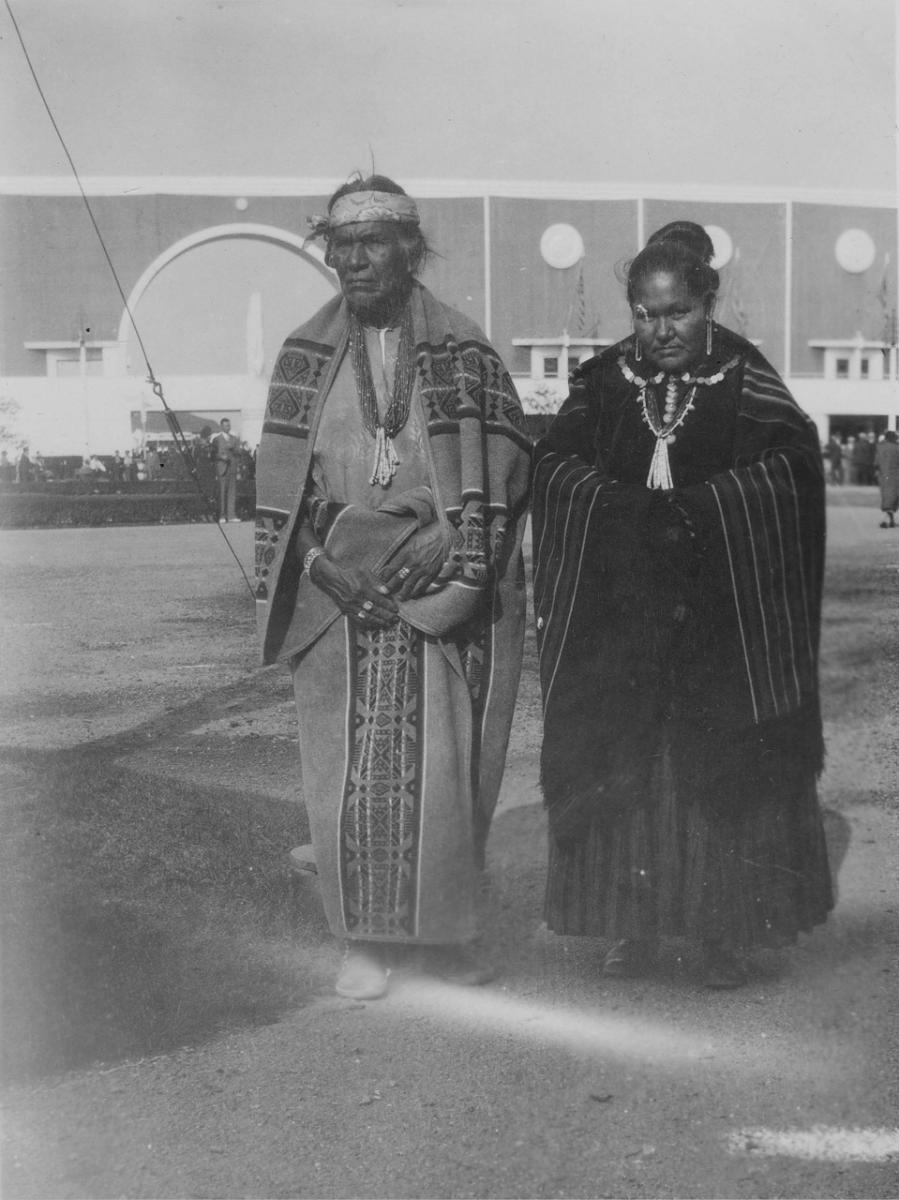 Hostiin Klah and Ah kena bah, at the 1934 Chicago World's Fair, by Franc Newcomb (Maxwell Museum of Anthropology, 2012.201.87)
Klah, whose life is well documented, in great part by Newcomb, had been weaving since the 1880s. With Newcomb's urging, he began to weave monumental rugs of sand paintings. He is most well known for his sand painting weavings,  even as the depiction of sacred sand paintings was and is controversial among Diné. In 1934, Klah demonstrated sand painting and weaving at the 1834 Chicago World Fair, giving even greater exposure to Klah and Diné culture to the larger American culture.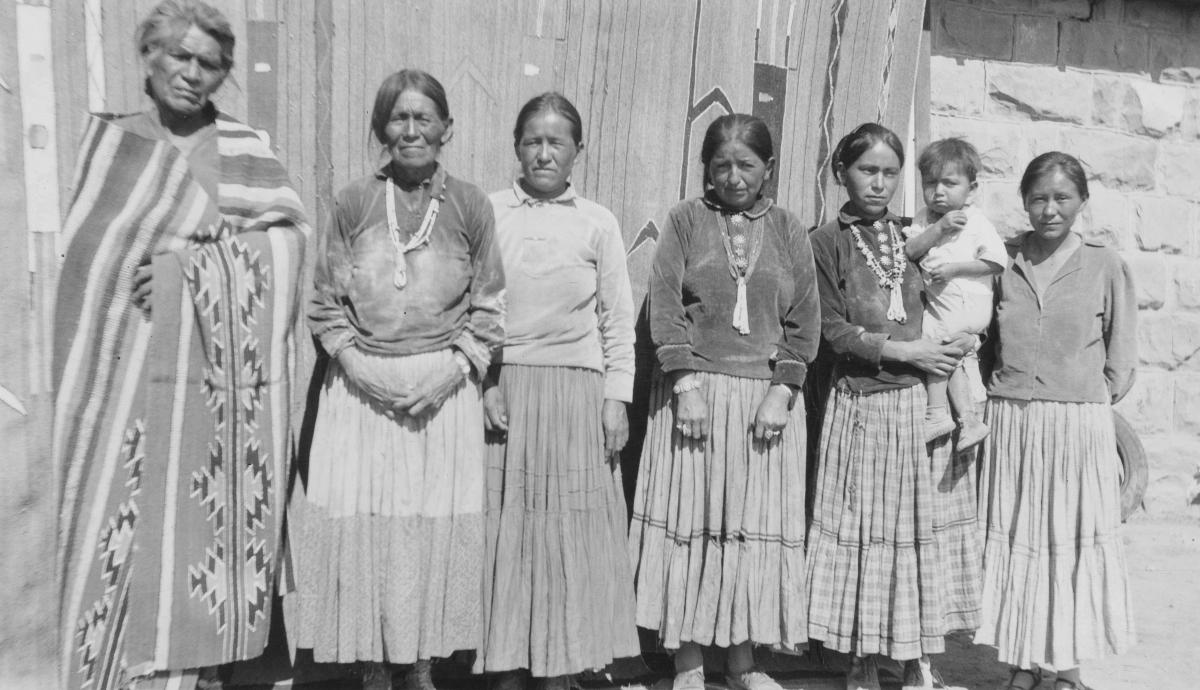 Grandma Klah's family, from left, Hostiin Klah and some family members, Adesbah and her three daughters, Mrs. Sam, Mrs. Jem, and Daisy with her son, and grandma Klahs granddaughter, Lucy Hapaha, ca 1930s, by Franc Newcomb (Maxwell Museum of Anthropology, 2012.201.88)
In his own lifetime, Klah's work started to be collected and displayed privately and in museums. In 1937, Mary Cabot Wheelwright, who had been collecting Klah's work for some years, opened the Museum of Navajo Ceremonial Art, today the Wheelwright Museum of the American Indian, partnering with Klah to do so.
Newcomb's photographs of Klah and his life and community are an important record of a significant nádleehí, weaver and hatáałii. The existence of these photographs, as well as the other images and people discussed here, are a needed refutation to the larger silences and erasures of other-gendered Indigenous people, and their presence in the Americas, past and present.
LINKS
General
http://www.phsa.ca/transcarebc/gender-basics-education/terms-concepts/two-spirit
https://www.elpalacio.org/2019/06/double-take/
https://www.kqed.org/arts/13845330/5-two-spirit-heroes-who-paved-the-way-for-todays-native-lgbtq-community
https://digitalrepository.unm.edu/cgi/viewcontent.cgi?article=1065&context=arth_etds
Osh Tisch and The-Other-Magpie
https://www.encyclopedia.com/social-sciences/encyclopedias-almanacs-transcripts-and-maps/osh-tisch
We'wha
https://www.womenshistory.org/education-resources/biographies/wewha
https://boundarystones.weta.org/2021/07/28/wewha-visits-capital
Lozen and Dahteste
https://www.nps.gov/chir/learn/historyculture/post-apache-wars.htm
https://www.history.com/news/lozen-apache-woman-warrior
Charlie (Nûtli)
https://sova.si.edu/record/NAA.PhotoLot.74?s=0&n=10&t=C&q=Fuller%2C+Jesse&i=2
https://wheelwright.org/exhibitions/the-durango-collection/
https://blogs.princeton.edu/westernamericana/2012/06/12/acvroman/
https://www.cartermuseum.org/artists/adam-clark-vroman
Hastiin Klah
https://wheelwright.org/about/history/
https://www.iowasource.com/2020/11/05/franc-newcomb/
https://digitalrepository.unm.edu/nm_women_aauw/11/
https://www.heardguild.org/hosteen-klah/