Maxwell Museum Blog
Post Date:
Monday, August 10, 2020 - 15:15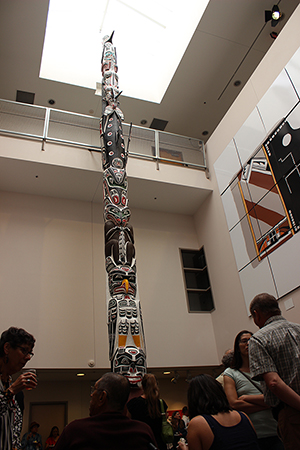 The pole's journey to New Mexico reflects the problematic history of anthropology and collecting in North America and around the world, which is part of the larger history of the colonization of native and indigenous peoples. The pole was stolen from the village of Kalagwees (Qaloǧwis), where it stood in front of Chief Peter Smith's house, which he built around 1928 to replace his father's original lineage house located on the shore, where the pole was raised and dedicated. 
Frank Hibben, an assistant professor in the Department of Anthropology at UNM at the time and later director of the Maxwell Museum, removed the pole by stealth without permission, trailed it behind a pleasure boat to Alaska and consigned it with other items he acquired on his research trip to be shipped to Seattle, where these items were then sent by rail to New Mexico. Using receipts that actually pertained to another pole, he claimed to have documentation of its purchase, though the family had refused his offer outright. When Chief Peter Smith returned from a spring fishing voyage to find the pole missing from its place of prominence in the village, crime reports were filed with Indian agents and eventually the Royal Canadian Mounted Police.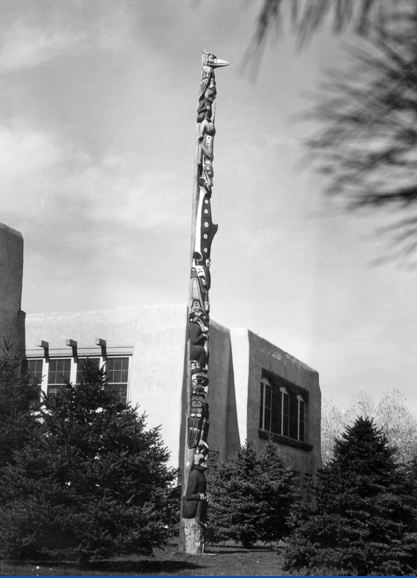 The Smith Family Totem Pole was initially displayed in the gardens at UNM Scholes Hall, ca. 1960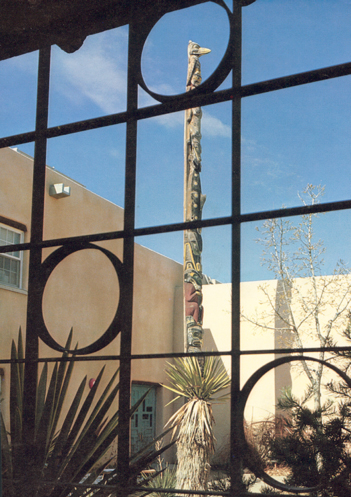 The Smith Family Totem Pole in the Maxwell Museum of Anthropology Courtyard, ca. 1970. Photo credit: The Maxwell Museum of Anthropology
Next week (Part 3 of 4), we turn to restitution and new collaborations.