Maxwell Museum Blog
Post Date:
Monday, August 3, 2020 - 15:15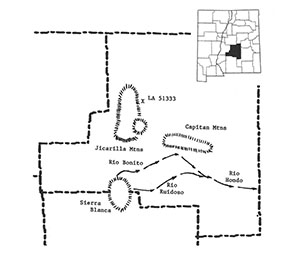 J. HARKEY SITE 1 (LA 51333), A CORONA PHASE HOME IN NORTHWEST LINCOLN COUNTY, NEW MEXICO
By Regge N. Wiseman
Introduction:
Prior to 1950, archaeological work in the Sierra Blanca country of Lincoln county and in the
northern part of Otero county in New Mexico was minimal and of small scale. Although Lehmer
(1948) had included part of that area in his definition of the Jornada branch of the Mogollon
culture, subsequent work in the foothills east of Sierra Blanca has shown that the prehistoric
remains bear little resemblance (other than pottery) to those of the basins of the greater El Paso
district. The excavations underpinning Lehmer's Jornada branch and phases, especially the late
manifestation he called the El Paso phase, derived from villages adapted to the desert basins west
of the mountain chain that includes the Sierra Blanca.
From 1950 through 1956 Texas Technological College (now University) conducted six seasons
of excavation and some survey along the drainages in the eastern foothills of Sierra Blanca. TTC
worked in the area surrounding the Capitan mountains and along Gallo Canyon near the village
of Corona. In her dissertation, Jane Kelley (1966) defined the Corona and Lincoln phases for the
northern part of the region (the Rio Bonito north to Corona), providing archaeologists with a
better "fit" with the archaeological remains than Lehmer's phases. Kelley's dissertation research
pursued her father's interest in elucidating connections between the prehistoric peoples of the
southern Plains and those of the Southwest.
Full Article: J. Harkey Site 1