Maxwell Museum Blog
Post Date:
Monday, September 21, 2020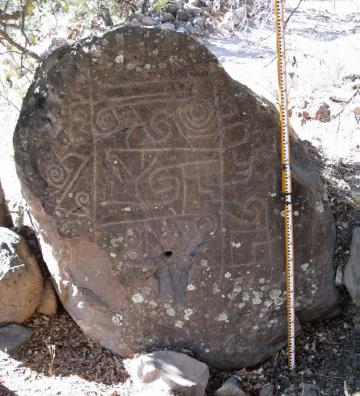 The Maxwell Museum Technical Papers series edited by David Phillips presents rich research reports on archaeological field projects and analyses of the collections they generate. Reports can be downloaded for free at https://maxwellmuseum.unm.edu/research/technical-series
Maxwell Technical Report 24: Medio Period Sites In The Santa María Valley Of West-Central Chihuahua, Mexico by the late Jane Holden Kelley (with contributions by Charles Knight A. C. MacWilliams Loy Neff), provides detailed information on the Medio period sites (ca. CE 1200-1450) documented by the Proyecto Arqueológico Chihuahua (PAC) in the upper Santa María Valley west-Central Chihuahua in the 1990s. These included Raspadura, a local center and the largest Medio site in the valley with multiple house mounds and a small quantity of Ramos Polychrome and other imported ceramics. The team also report on their excavations at the small settlements of the Pig, Buenavista, and Picacho sites and their less intensive documentation of the inscribed Fresno Boulder and the sites of Alcarón, Palacios, Parcela, and Abraham Gonzalez.
Although contemporary with the florescence of Paquimé to the north, Kelley concludes that communities in the southern zone of the Medio tradition did not participate in similar Paquimé-centered interactions as their northern neighbors. Instead, the PAC documented small but comfortable agricultural communities, with limited evidence for long-distance interactions, exotic goods, or public architecture.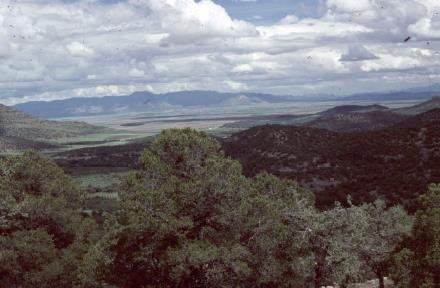 View east across the Santa María Valley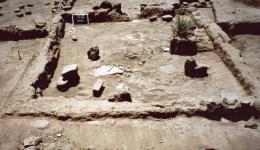 Room 1 at the Picacho Site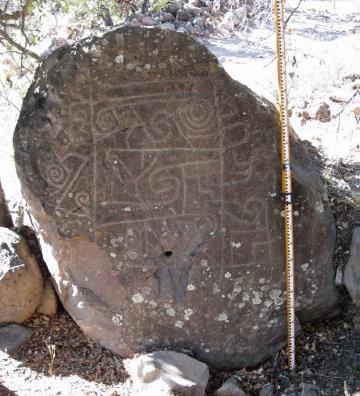 The Fresno Boulder Petroglyph panel