Maxwell Museum Blog
Post Date:
Friday, June 1, 2018 - 12:00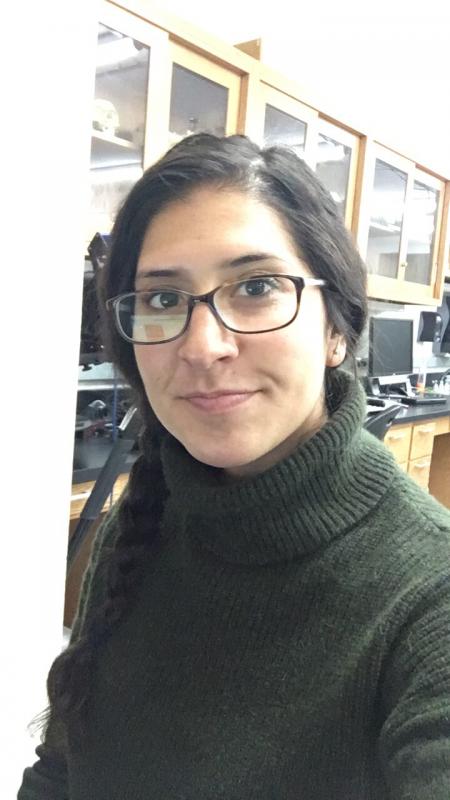 Carmen Mosley
Home town: San Diego, CA
Currently live: Albuquerque, NM
Undergrad/ Grad: BA, University of California, Santa Cruz/ MS,
PhD (Expected Fall 2018) University of New Mexico Major: BA Anthropology, MS/PhD Evolutionary Anthropology
Chief Laboratory Assistant at the Laboratory of Human Osteology (2007 – 2014)
Currently Collections and Lab Manager of Human Osteology (since October 2017). Expecting to finish PhD in Fall 2018. I moved back to Albuquerque in October 2017
from Richmond, IN where I completed a two-year Teaching Fellowship at Earlham College.
What skills did you learn at the Maxwell that brought success?
When I was Chief Laboratory Assistant I learned so much about best practices for curating human osteological collections and I used that knowledge when I helped rehouse
the small human osteological collection at the Joseph Moore Museum at Earlham College. I am also grateful for the management skills and more general museum experience I've gained from working at the Maxwell Museum.
What advice would you give to current students?
Don't be afraid to ask questions. Be open to and seek out new opportunities, and take risks; this is often the best way to gain new experiences and make yourself more marketable. As a museum professional, I would encourage everyone, not just students, to take advantage of our community's (UNM and New Mexico more broadly) many museums, and the public programs they offer.
Check out the Maxwell Laboratory of Human Osteology: http://osteolab5.wixsite.com/osteolab