-News-
posted-on: Mar 01, 2022 2:05pm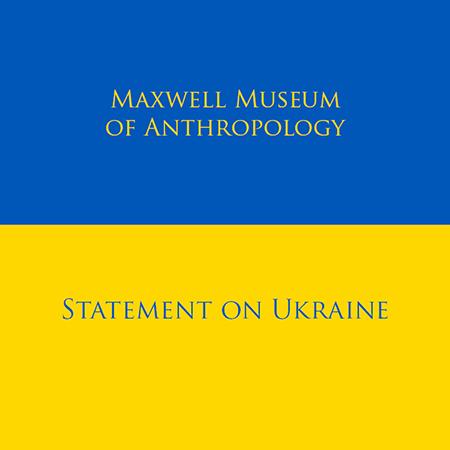 MAXWELL MUSEUM OF ANTHROPOLOGY
STATEMENT ON UKRAINE
The Maxwell Museum joins with all others committed to democracy, rights of self-determination, territorial sovereignty, and human decency in strongly condemning the Russian invasion of Ukraine. We extend support, sympathy, respect, and admiration to the people of Ukraine, at home and abroad, and acknowledge the deep history, rich cultural heritage, and sovereignty of the Ukrainian people and their land.
March 1, 2022
--------------------------------------------------------
Note: we append below a recent statement issued by the Maidan Museum of Kyiv, a museum dedicated to preserving, presenting and spreading the history of Ukranian's struggle for freedom (https://www.maidanmuseum.org/en/home  (with gratitude to Elaine Heumann Gurian for sharing this statement)
For the eighth year in a row, a war has been waged by Russia on Ukraine that began with the occupation of Crimea and parts of Eastern Ukraine.
At dawn on February 24th this year, the whole of Ukraine woke up to explosions from missile strikes hitting peaceful cities, both military and civilian infrastructure, from land, air, and sea. Ukrainian army along with civilians are offering decent rebuff to the Russian occupation forces, defending our country's territorial integrity and the freedom of our people.
Russian missiles and weapons directed against the Ukrainian army and the innocent population, are in fact aimed at exterminating Ukrainians as a national community with its authentic culture and history.
And therein lies the initial cause of this war.
It is no coincidence that in his last speeches before the attack, in which Putin justified and explained the need for a military invasion, he was making a "retrospective journey into history". Pseudohistory, the essence of which has been the assertion that Ukrainians do not exist as a nation and the state of Ukraine is, in a way, a historical misunderstanding and a failed state. Putin has publicly announced his "crusade" against the national identity of Ukrainians, not only seeking to seize our land but also to destroy our language, our history, our culture.
The struggle for preserving our national identity has been the experience of every generation of Ukrainians over centuries, especially in the days of Soviet (in fact, Moscowian) totalitarianism that had been taking systematical and purposeful actions to destroy any and all cultural heritage coming into contradiction with the "single nation" narrative.
And although we are facing the deadly battles taking place on the streets of our cities today, it is time to draw the world's attention to the threat of destroying the history and culture of Ukraine.
Various forms of cultural heritage are being under immediate threat: tangible as well as intangible, and people, who are the carriers of this culture, and especially cultural figures. To make sure we are not employing an exaggeration, it is enough to simply mention the persecution of Crimean Tatar cultural figures in Crimea following its occupation for the last eight years.
Architectural monuments, museum collections, monuments of history, art, and archeology are being threatened with destruction. We already have information about a museum destroyed by the occupants near Kyiv, about the architectural monuments used by the Russian military, under threat of artillery shelling is a church dating back to XI-XII centuries, in Chernihiv and Kyiv regions.
At these difficult times, we are calling on the international cultural community to support Ukraine in its struggle for freedom and independence in every possible way.
First of all, we are asking to enforce the implementation of the Hague Convention by Russia and Belarus, in particular on the preservation of cultural heritage sites in the context of war and personal responsibility for the crimes.
The best response to Russia's aggression in the cultural sphere is to increase interest in Ukraine's history and culture throughout the world. Thus we are calling on all cultural figures, historians, artists, public figures, community leaders, media in the world to reveal the truth about suppression, distortion of historical facts, erasure of Ukrainian cultural identity, to promote cultural heritage by all possible means, to ensure wider access to the genuine history of Ukrainians' path to freedom and democracy, our cultural identity and our devotion to universal human values.
Ukraine and the whole world need to refute the myths, stereotypes, and lies that formed the basis of Russia's imperial ideology, which is posing a threat to the entire free democratic world today.
We remember, appreciate, and express gratitude for the help and partnership from international institutions. Thuswise, we must act together to stop Russia's aggression and resolutely oppose the cynical destruction of the foundations of international law, security, and democracy in the world.
Let's fight back military aggression, we are a power together!
#culture_cannot_wait
_____________________________________________________________
Вісім років як іде війна Росії проти України, яка розпочалася окупацією Криму та частини Східної України.
На світанку 24 лютого цього року наша країна прокинулася від вибухів унаслідок ракетних ударів із суші, повітря та моря по військовій і цивільній інфраструктурі, мирних містах. Українські військовики та громадяни дають гідну відсіч російським окупаційним військам, відстоюють територіальну цілісність країни та свободу нашого народу.
Російські бомби, ракети й кулі, спрямовані проти української армії та мирного населення, насправді націлено на знищення українців як національної спільноти з її автентичною культурою, історією, світоглядом.
І це – першопричина війни.
Невипадково у своїх останніх промовах перед нападом Путін, виправдовуючи потребу військового вторгнення, зосереджувався на "екскурсі" в історію. Псевдоісторію, суть якої – твердження, що українців як нації не існує й держава Україна – нібито історичне непорозуміння, країна-лузер. Путін публічно оголосив свій "хрестовий похід" проти національної ідентичності українців, прагнучи не лише захопити нашу землю, а й знищити наші мову, історію, культуру.
Боротьба за збереження своєї ідентичності – досвід кожного покоління українців упродовж століть, особливо в часи радянського (а насправді московського) тоталітаризму, що системно й цілеспрямовано нищив усю ту історичну пам'ять і культурну спадщину, які суперечили наративу "єдиного народу".
І хоча на вулицях наших міст сьогодні точаться смертельні бої, саме час звернути увагу всього світу на загрозу знищення історії та культури України.
Під загрозою різні форми культурної спадщини, а також люди – її носії, особливо культурні діячі. Це не перебільшення: достатньо лишень згадати репресії щодо діячів кримськотатарської культури у Криму після його окупації РФ в останні вісім років.
Війна загрожує архітектурним пам'яткам, музейним колекціям, пам'яткам історії, мистецтва, археології. Відомо про знищення окупантами музею на Київщині, про використання пам'яток архітектури російськими військовими, під загрозою артилерійського обстрілу церкви XI–XII століть на Чернігівщині та Київщині.
У цей скрутний час звертаємося до міжнародної культурної спільноти із закликом усіляко підтримати Україну в її боротьбі за свободу та незалежність.
Насамперед закликаємо чинити тиск щодо виконання Росією та Білоруссю Гаазької конвенції, зокрема стосовно збереження об'єктів культурної спадщини в умовах воєнних дій та відповідальності за злочини.
Важливою реакцією на російську агресію в культурній сфері є зростання інтересу до історії та культури України у світі. Отож закликаємо всіх діячів культури, істориків, митців, громадських діячів, лідерів громад, ЗМІ відкривати світові правду про замовчування та спотворення історії, затирання культурної ідентичності українців. А також – промоціювати українську самобутність усіма можливими засобами, забезпечити широкий доступ до пізнання тернистого шляху України та українців до свободи, демократії, відданості загальнолюдським цінностям.
І Україна, й увесь світ потребують спростування міфів, стереотипів та брехні, що лягли в основу імперської ідеології Росії, яка сьогодні становить загрозу всьому вільному демократичного світу.
Ми пам'ятаємо та цінуємо допомогу й партнерство міжнародних інституцій та вдячні їм за це.
Переконані, що маємо спільними дієвими зусиллями зупинити Росію, згуртовано виступити проти цинічного руйнування підвалин міжнародного права, безпеки та демократії у світі.
Тож дамо рішучу відсіч воєнній агресії, адже разом ми – сила!
#culture_cannot_wait
See Also