Maxwell Museum Blog
(Lone Piñon performing at the 2022 Courtyard Concert Series. Photo by Gustavo Martinez/Maxwell Museum).
The Maxwell is proud to announce the spring edition of the "Maxwell Courtyard Concert Series," a four-part celebration featuring superb local and regional artists. As Albuquerque's first public museum, the Maxwell aims to restore voices and create community. What better way to realize this new vision than through music & culture? 
This year, in comparison to our inaugural 2022 Concert Series, we are mainly highlighting the musicality of the UNM campus. This includes featuring a son jarocho collective based in the Department of Chicana and Chicano Studies as well as a Horn Quartet and Banda UNM, both from the Department of Music. Lastly, to kick-off LGBTQ+ Pride Month, we are welcoming artist Amalia Mondragón/Tereso Perfecto Contreras from the U.S.-Mexico border. This concert will be followed by a special "Dancing in the Cave: Pride Edition," featuring DJ Frankie Flores.   
Please join us for the free concerts and dance party as we transform our intimate courtyard into a unique cultural venue. During these events, the Maxwell as well as its Museum Store will be open and refreshments will be offered. The series is co-sponsored by UNM's Latin American & Iberian Institute, Department of Music, and LGBTQ Resource Center.
* Each concert below is free but limited to the courtyard's capacity. First come, first served. No tickets available but registration is still appreciated *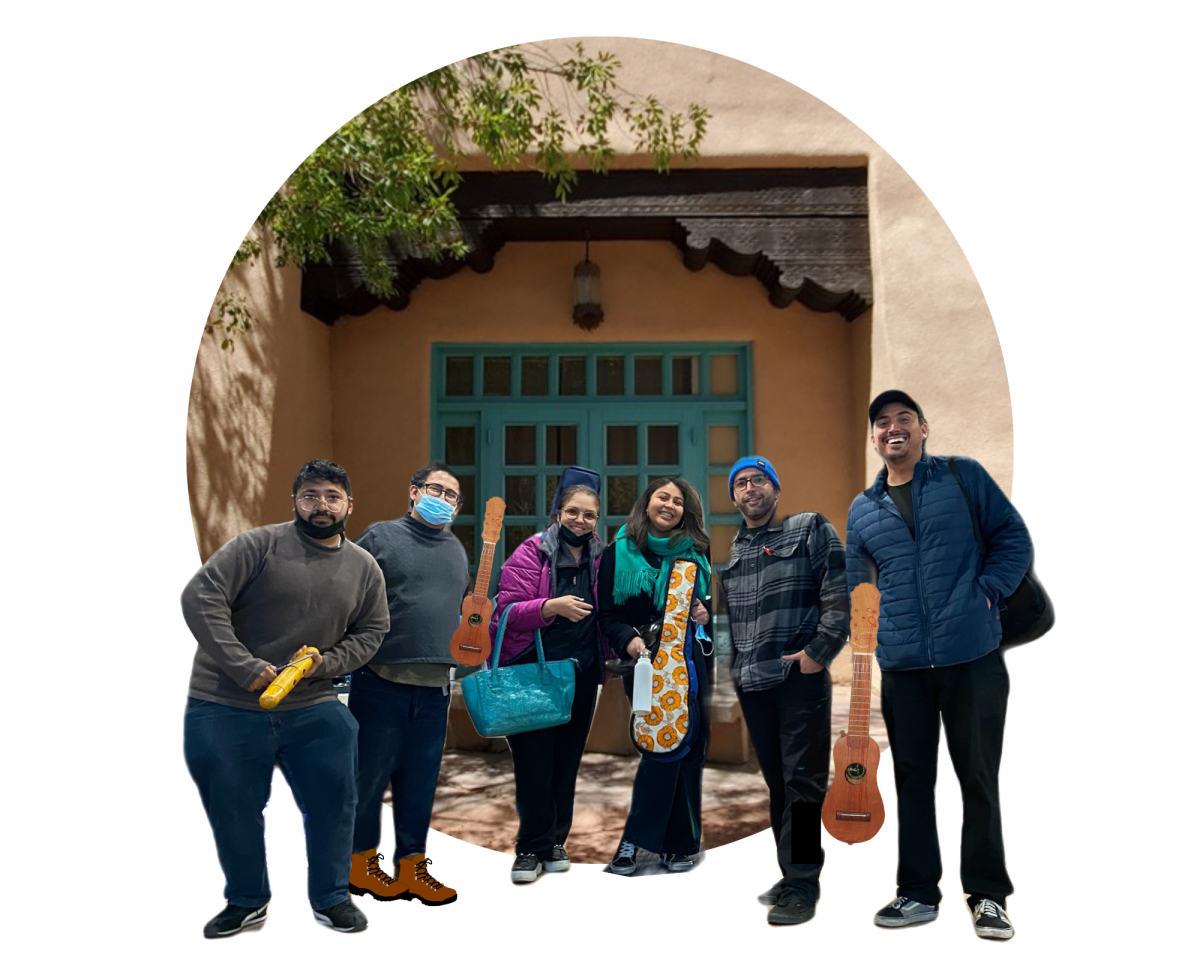 March 24, 2023 @ 12:00 PM
Las Brujas Chicanas 
Bring your lunch and join the fandango, or celebratory communal gathering in which band members take turns singing, dancing, and playing. Las Brujas Chicanas is a son jarocho UNM-based music collective of students, faculty, and community members emerging from the Department of Chicana and Chicano Studies.
Son jarocho is a musical and dance genre with roots in Veracruz, Mexico, and a history shaped by Spanish, Indigenous, and African traditions. In the U.S., the tradition has gained traction due to its accessible, collective, and often politicized practice. Since 2016, Las Brujas have been cultivating this music through workshops and fandangos on campus. In June 2023, the collective will be performing in Paris, France, and this concert is a way for them to share what they are working on.
The picture to the left only shows a fraction of the collective, in its present form Las Brujas Chicanas include over fifteen members and it is growing. If you're interested in learning more and joining the group (no experience necessary), this concert is the perfect opportunity to meet and talk to them. 
REGISTER ONLINE here so the museum staff can plan to have plenty of refreshments.
 
May 5, 2023 @ 12:00 PM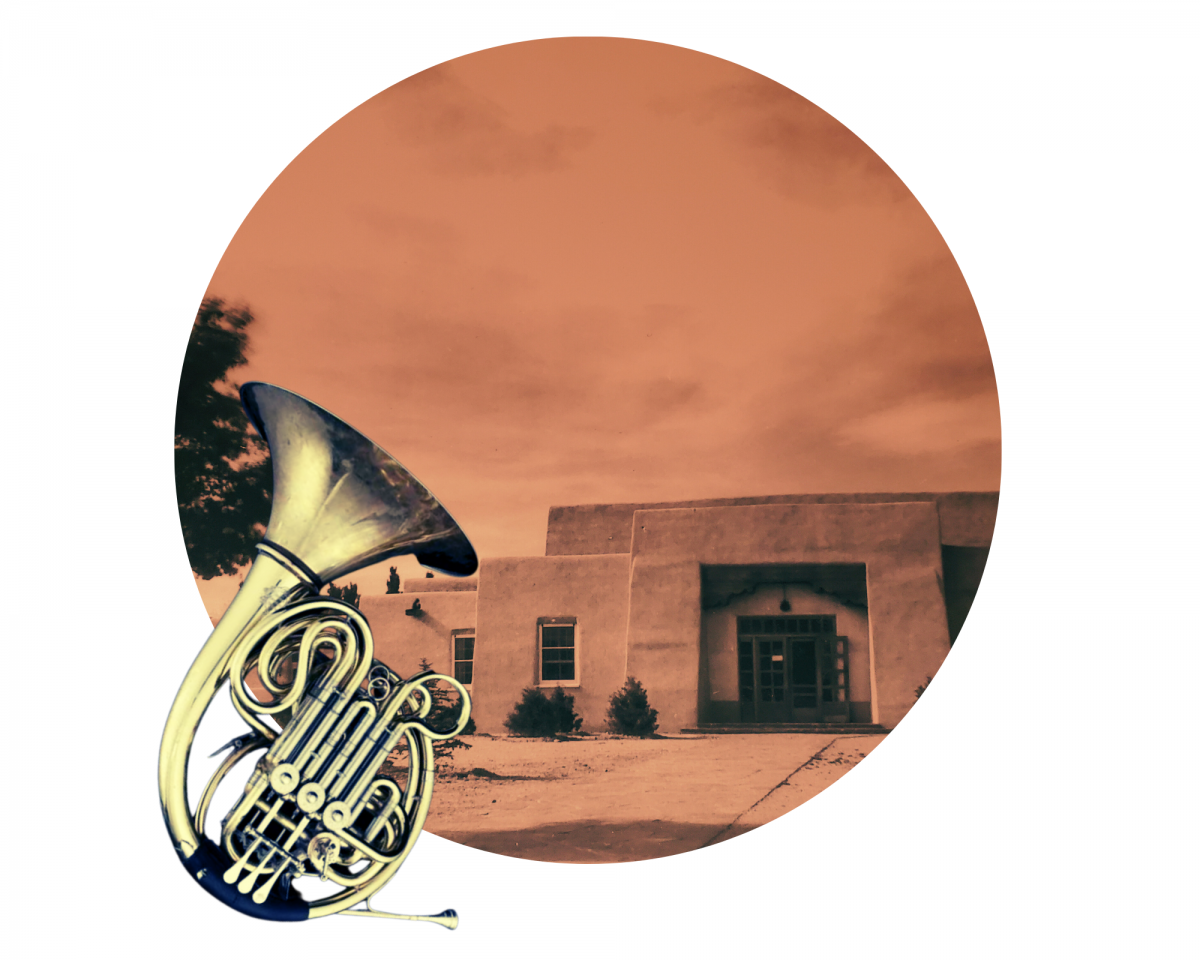 Duke City Horns 
Join us as we welcome the UNM Department of Music's horn quartet, Duke City Horns, to the courtyard stage.
Bring your lunch or simply come to enjoy the beautiful music. 
The program of pieces and movements for the concert will include
compositions by historical and contemporary composers, namely: 
Jacques Francois Gallay, Damon Hess, Eugene Bozza, Thomas "Tom" Ropp, & Lowell Shaw.
REGISTER ONLINE here so the museum staff can plan to have plenty of refreshments.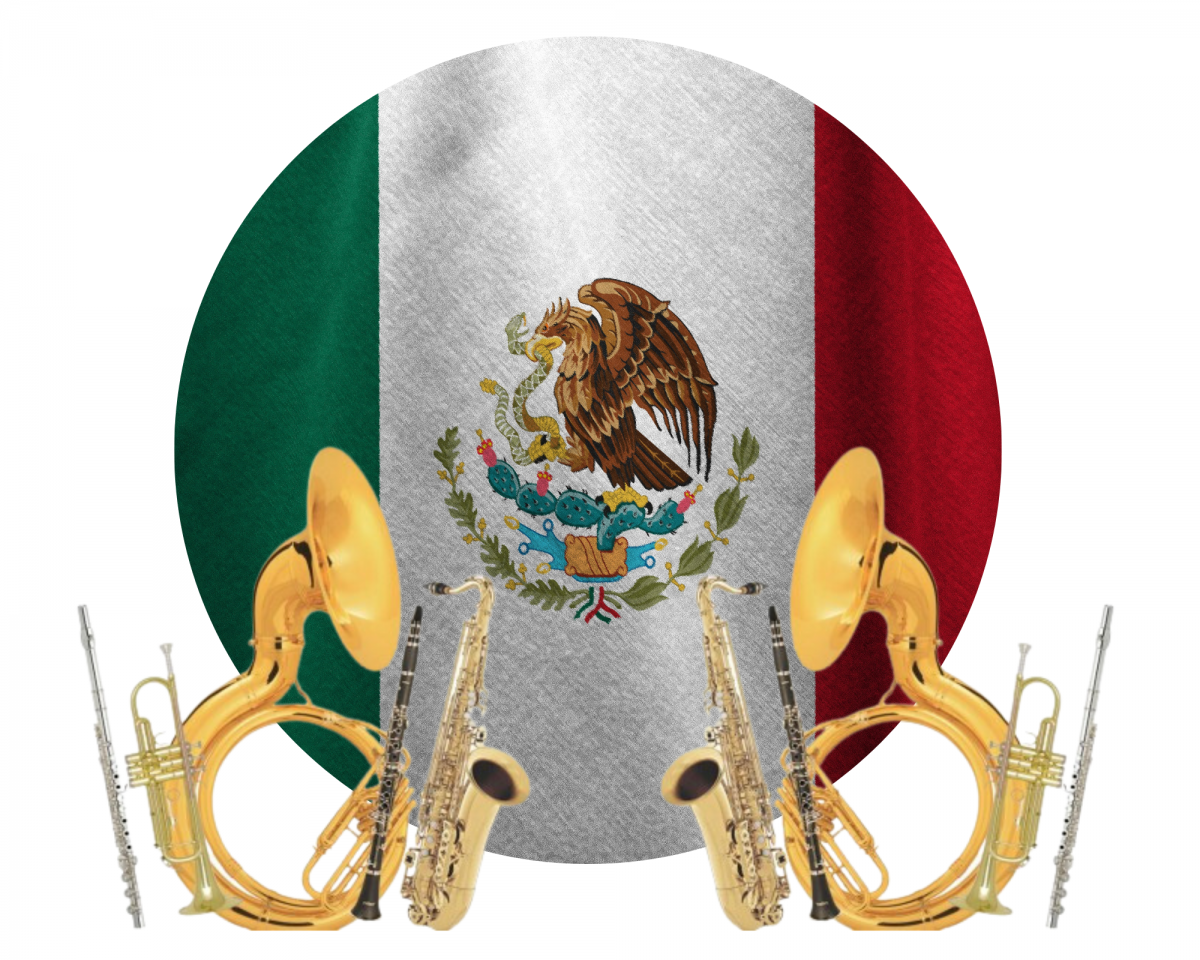 May 12, 2023 @ 6:00 PM
Banda UNM
+ UNM Mariachi Ensemble
Banda UNM is a brass band composed of UNM undergraduates, graduate students, and alums who share a passion for the style of Banda Sinaloense music from Northern Mexico. Banda UNM brings energy to gigs that get audiences on their feet, singing and dancing. Join us for their debut performance! Banda UNM plays ballads, boleros, cumbias, and rancheras from artists such as Banda El Recodo, Jenni Rivera, José Alfredo Jiménez, Los Ángeles Azules, Luis Miguel, Pedro Infante, and many more. Banda UNM is under the direction of graduate musicology student Roberto De Leon, whose thesis is on Banda Sinaloense music.
Special guests, UNM Mariachi Ensemble, will perform during the Banda's intermission. The ensemble is led by Robert Lucero, JD UNM School of Law, a native of northern New Mexico with a long list of impressive accolades and accomplishments. In the fall semester 2019, Lucero re-initiated the mariachi ensemble class at UNM, with the essential support of visionary leadership at the UNM College of Fine Arts and Department of Music, as well as the invaluable contributions of his fellow instructors. He continues to instruct the UNM Music Department mariachi ensemble class and teach at the UNM School of Law. 
REGISTER ONLINE here so the museum staff can plan to have plenty of refreshments.
June 2, 2023 @ 6:00 PM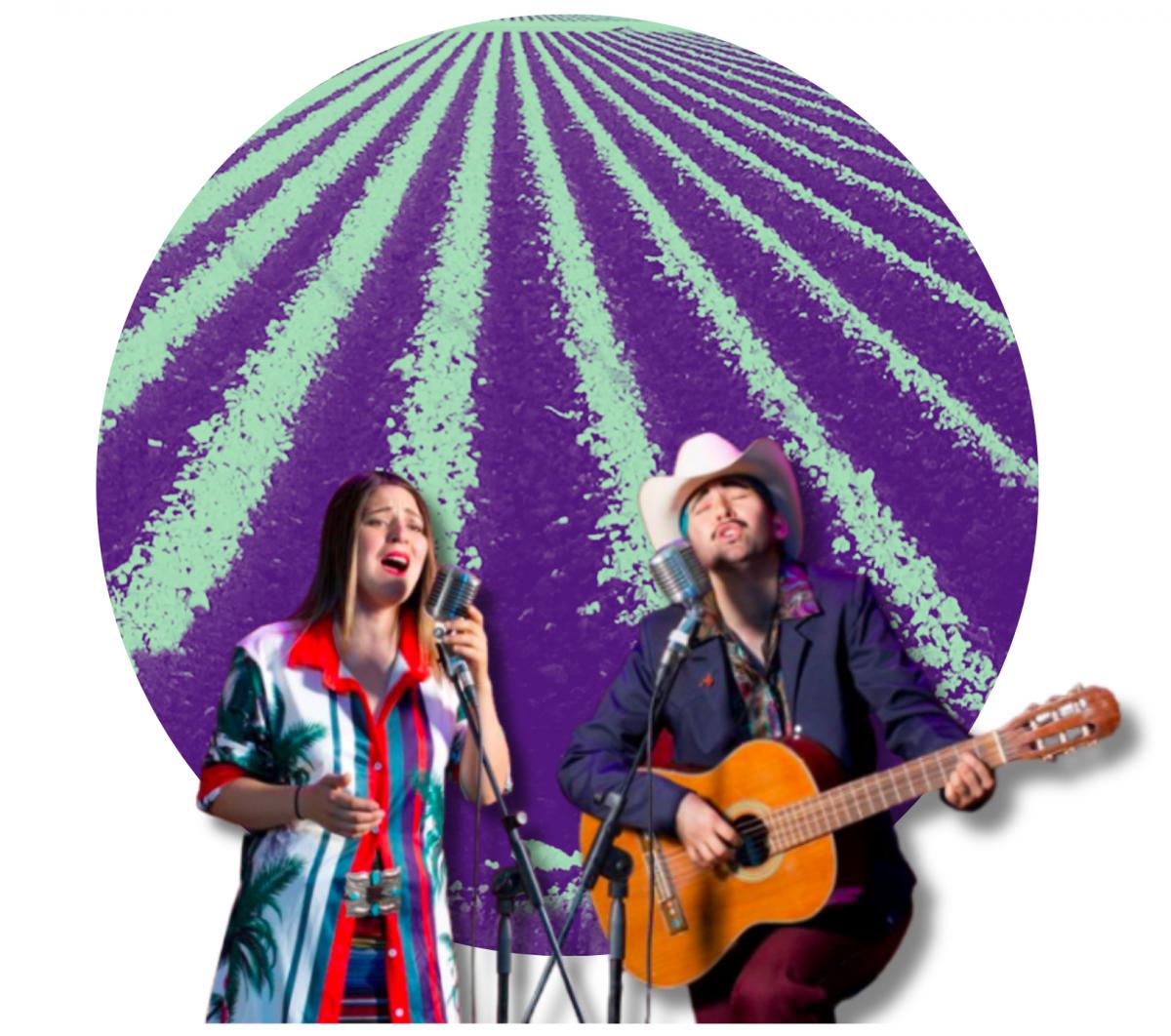 Amalia Mondragón / Tereso Contreras
+ DJ Frankie Flores
We're kicking off Pride month at UNM with two Latinx, transfronterizx artists and an epic dance party.
Through distinct feminine and masculine manifestations, the artist Amalia Mondragón and Tereso Contreras Perfecto reexamine traditional musical genres from the U.S.-Mexico border through a queer perspective that challenges stereotypical border narratives. Together, they will bring their unique Latinx, Queer spin to traditional and original music. 
Amalia is a singer-songwriter born in East Los Angeles and raised in New Mexico. She's spent much of her time contributing to the music scene in the dubbed tri-state Borderplex of Las Cruces/Ciudad Juárez/El Paso. Not only has she performed alongside noteworthy artists but she's also performed at big venues including the SXWS (South by Southwest), Austin City Limits and Vive Latino.
Tereso is Amalia's fun-loving and talented cousin. Together, with their music they not only spark conversations about underrepresented communities but also gender, border life and migration.
After the live music concert, UNM's very own Frankie Flores will be a guest DJ at a "Dancing in the Cave: Pride Edition" dance party. Flores is the Director of the LGBTQ Resource Center, an invaluable family and network committed to serving the UNM community by providing education, advocacy, and support through events, trainings, and student groups.
REGISTER ONLINE here so the museum staff can plan to have plenty of refreshments.
Our Generous Co-Sponsors